Today is a very exciting  Meatless Monday for us. It is the first day we are providing our 2 Edgy Veggies To Go, Meatless Monday Meals. Over the weekend we crafted a menu, emailed it to our potential local clients and let them to order. Their meals will be ready for them to pick up every Meatless Monday morning. They get a homemade vegan meal prepared, packaged and ready to go and we get paid to do what we love….cook vegany foods while spreading the message and opportunity to change the world one meal at a time. So many people have said to us…"I'd be vegan if you would cook for me." Okay, we will. I am so, so excited about this. Even thinking about doing this has raised my vibration and made me feel happy. Here is today's Meatless Monday menu:
Autumnal Butternut Bean Stew.  Buttermilk Dill Biscuits. A Seasonal Slaw topped with Carmelized Honey Crisp Apples and vegan Almond Roca for dessert. Yum! I would order this and am glad they did too.  For fun, we included a small gift inside, you know, like the prize in the Cracker Jack box.
It is funny because we have really wanted to do this. I have crafted menus, thought about packaging, pondered days spent cooking and feeding those too busy to cook. I have envisioned great success and been paralyzed with fear. What if no one wants them? What if too many people want them? What if we lose all of our money doing this and have to dumpster dive to survive? What if it is wildly successful and we have to quit our jobs to do something we really love?
Finally, over the  weekend Sandy cut through the haze of insecurity and fear surrounding this decision and said, "Screw it…lets do it." And I said okay, lets, and we did.
Allowing an opportunity to slip away because I am unsure or afraid of the outcome is no longer who I strive to be. That may have been who I used to be, but I don't have to continue to simmer in limited thinking out of fear. I don't want to miss a thing. This journey has been too much fun.
Our first orders came in and we are on our way.
Here is the recipe for the Autumnal Stew.
Autumnal Butternut Bean Stew
By: S. Boulton
Ingredients
4 C low sodium veggie broth
4 C + water (add a little extra if you need some more fluid)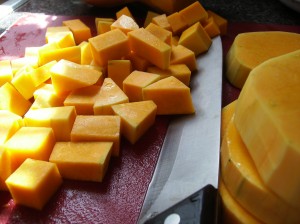 6 C cubed butternut squash
2 1/2 C cubed potatoes
1 15 oz can of great northern or canellini beans
1 15 oz can of black beans
2 stalks of celery chopped
2 whole cinnamon sticks
1 leek bulb  (this is just the white part of the leek.  I left this whole so it could easily be removed before serving, we are not fond of onions in our food)
1/2 C coconut milk
3 Tbsp maple syrum
2 tsp coarse salt
1 tsp garlic powder
1/4 tsp cayenne pepper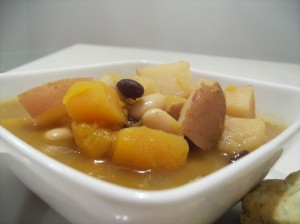 Make it Happen:
Put all ingredients except the coconut milk and cans of beans into a large crock pot.  Cook on high for about 4 hours.  Remove the cinnamon sticks and leek.  Add the beans and coconut milk, cook for another hour on high and
reduce heat to low for another hour.   Serve.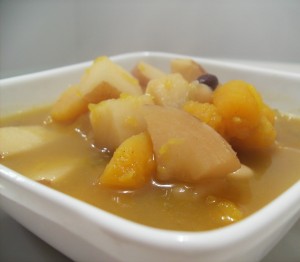 The coconut milk is the most luscious addition to this pot. It makes the broth both buttery and silky. The sweet with the faint heat, the beans and root veggies are autumn at their most divine. I  will let you know what our first clients thought about their Meatless Meals.
Have a delicious day.
Tags: 2 Edgy Veggies, 30 day challenge, autumnal butternut bean stew, buttermilk dill pepper biscuits, butternut bean stew, compassionate eating, dairy free, Engine 2 Diet, Meatless Monday, Meatless Monday recipe, plant based diet, vegan buttermilk, vegan buttermilk biscuits, vegan buttermilk dill pepper biscuits, vegan challenge, vegan experience, Vegan MoFo, vegan MoFo recipe, vegan side dish, vegan soup, vegan wannabe, vegetarian butternut bean stew. vegan butternut bean stew, vegetarian soup