The watermelon chip experience was so amazing that I went right back to the store and purchased another seedless melon to make more. Because I began stock piling melon,  I also decided to create a Watermelon Gazpacho. I have a borderline addiction to watermelon and I crave chilled soups.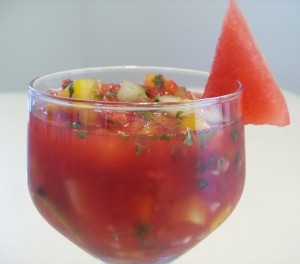 This Gazpacho is so flavorful and easy to create that I have made it twice in three days. I have used it to dazzle company, then served it again last night for Chloe's birthday party. It tastes like all of the magical moments of a richly experienced summer. It is playing badminton and eating popsicles. It is an afternoon by the pool and an evening by a roaring bonfire. It is the perfect book and an Adirondack chair. That is what this soup tastes like to me. I hope you enjoy it too.
Watermelon Gazpacho
By: S. Duquet
7 C perfectly ripe and sweet watermelon
15 cherry tomatoes
1 small shallot rough chopped
1 large or two small cloves of  garlic rough chopped
1-2 small jalapenos seeded and rough chopped (please use gloves I burned my finger tips)
1 C Cilantro
1 Tsp agave
1 Tbsp fresh lime juice
1 diced yellow pepper, chopped
1 diced English cucumber (or 2 smaller cucumbers), chopped
Make It Happen
~Add all of the ingredients to the food processor except for 2 cups of the watermelon, the cucumber and the yellow pepper. Blend well until the garlic and onion are no longer visible.
~Add the remaining watermelon and pulse lightly, leaving some bits for texture.
~Pour into a large refrigerator safe bowl. Add the cukes and pepper. Stir and allow to chill overnight.
Enjoy the  taste and feel  of the sun drenched produce. Maybe sit on the porch with a biggie bowl and listen to the sounds of summer.
Have a delicious day.
Tags: chilled soup, compassionate eating, cooking with herbs, dairy free, going veg, plant based diet, plant strong, raw recipe, raw soup recipe, raw vegan recipe, trying vegan, trying vegetarian, vegan, vegan challenge, vegan entertaining, vegan entree, vegan recipe, vegan soup, vegan summer dishes, vegan wannabe, vegetarian entertaining, vegetarian recipe, Watermelon Gazpacho, watermelon soup