Lately I have been intrigued with all things avocado. Had I known that going vegan meant I could eat more avocados than I would have demanded veganism at birth. I revere avocados and think they should be incorporated into all meals…especially dessert. The avocado is the most luxurious  medium for creating a silken texture. It rivals the creaminess of anything I have ever experienced, dairy or otherwise.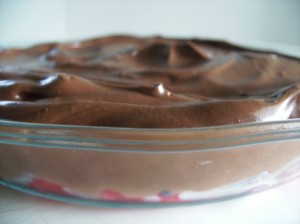 I found this recipe for Raspberry Avocado pie from  Renee Mahon while on the Healthy Girls Kitchen blog. I made a few modifications including the name  and added blueberries to the mix because I could not find enough raspberries. Evidently there was a run on raspberries over the weekend. I was disappointed at first but as most things do when you let it flow….I thought it turned out even better than I could have imagined and I would definitely use more than one type of berry next time.
As I write this I am fighting the urge to sneak into the kitchen and quietly finish off the pie. I keep telling myself, "Heck, I ran today and  I even walked the dog. How bad could another quarter of a pie be?"
My recommendation, make this pie when you are about to have company and encourage them take the left overs home….or be prepared to consume it yourself in the middle of the night in the dark. It is that good.
Dark Chocolate, Avocado & Berry Pie
By: Renee Mahon and slightly modified by S. Duquet
Ingredients
2 small ripe avocados
2 Tbsp fresh squeezed orange juice
12 oz (one bag) vegan semi sweet chocolate chips
2 Tbsp vanilla
1/3 C non dairy milk
2 small packs of fresh berries, I used raspberries and blueberries
Make It happen
~Arrange berries in the bottom of your pie plate
~Melt chocolate low and slow in a double boiler
~Put all remaining ingredients into a food processor and blend until smooth
~Once chocolate is melted, put a few spoonfuls of chocolate into the processor with the avocado mixture to raise its temperature and temper it. You may then combine the chocolate with the avocado mixture and process until smooth.  Otherwise, your melted chocolate will cool abruptly and clump.
~Process until smooth
~Pour chocolate mixture over berries and pat down while smoothing out for a beautiful top.
~Chill for several hours or overnight. I chilled mine overnight and it was absolutely perfect for dinner the next night. Wait, does she mean dessert or did they really eat that for dinner??
Cut and serve immediately out of the fridge when the pie is most firm. Because the bottom layer is fresh fruit instead of crust, it can be challenging to plate in a photo worthy way. Plating when the pie is very chilly works the best.
You will not believe how insanely creamy and indulgent this pie is. It is like a silken cloud of dark chocolate that has enveloped fresh fruit. It just may become your favorite go to pie for dinner parties, bake sales  or a date with your beloved.
Have a delicious day.
Tags: avocado dessert reicpes, compassionate eating, dairy free, dairy free dessert, dark chocolate avocado pie, going veg, plant based diet, plant strong, raspberry avocado pie, trying vegan, trying vegetarian, vegan, vegan challenge, vegan chocolate raspberry pie, vegan dessert, vegan dessert recipes, vegan experience, vegan recipe, vegan wannabe, vegetarian transition