I recently learned about an amazingly cool, vegany event that is taking place in a few weeks on the west side of Michigan, it is called Wake up Weekend.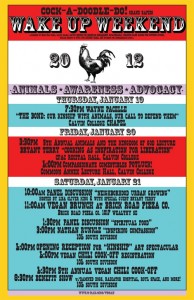 The keynote speakers include some of the most respected industry leaders in animal advocacy and inspired vegan cooking.   These are 2 subjects that are near and dear to my heart.  When I hear "vegan potluck" in the same sentence with vegan chili cook-off, I know for sure that whatever else is in store is going to be the perfect attraction for me.   This conference seems to promise to deliver my culinary desire and interest in hearing from animal rights experts.
Digging in a little further, I found this helpful site that they recently launched for the third annual Wake up Weekend.   It takes place from Thursday, Jan. 19th thru Saturday, Jan. 21st at Calvin College in Grand Rapids, Michigan.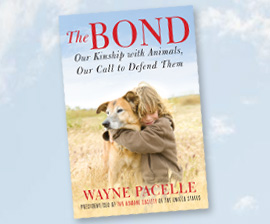 The festivities kick-off Thursday evening at 7:30pm with Wayne Pacelle, President and CEO of The Humane Society of the United States and author of The Bond: our kinship with animals, our call to defend them.  This is a must see for Sandy and me, we look forward to hearing him speak.
Bryant Terry presents on Friday (among other activities),  "Out of the Factory, Into the Field:  Cooking as Inspiration for Liberation".  You may recognize his name as author of Vegan Soul Kitchen.  He is about to introduce a new book, The Inspired Vegan and is going to pre-launch it here during Wake Up Weekend.
Saturday has a full schedule of events, including yum,  a vegan brunch (this is the only pay-for event, $11, everything else is no charge) and a presentation in the afternoon from Nathan Runkle,  Founder and Executive Director, Mercy for Animals.  This evening is their famed vegan chili cook-off and I will be there in the front row to sample!  I love chili cook-offs and love to see and taste what other people are doing with their own kitchen wizardry.
You can see the full schedule of events for Wake Up Weekend 2012 here.  If you are thinking of attending, please let me know, we'd love to see you there. We'll take plenty of notes and pics and will be sure to share them with when we get back.  If you aren't within traveling distance to make it to this conference, is there something cool like this going on near you?  Please share, I'd love to hear about it.
Have a delicious day.
Tags: 30 day challenge, Bryant Terry, compassionate eating, going veg, Nathan Runkle, plant based diet, The Bond, vegan, vegan challenge, vegan chili cook-off, vegan experience, vegan potluck, Vegan Soul Kitchen, vegan wannabe, Wake up Weekend, wake up weekend 2012, Wake up weekend in Grand Rapids, Wayne Pacelle