In June I shared Sandy's Top Secret Chick'n Noodle Soup recipe. It is the kind of soup that takes on the form of an actual loving embrace. It goes into your body and becomes a healing tonic, a life size band-aid for your broken parts and a hug from the most loving person you have ever known or imagined. I thought it would be timely and appropriate to share it again now.
Treat it like a treasured secret, but share it with all those that need it. It truly will soothe your body and comfort your soul.
Vegan Chick'n Noodle Soup
By:  S. Boulton
Ingredients:
1  4.5 oz box of Manischewitz Matzo Ball & Soup Mix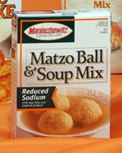 1 cup finely chopped carrots
1 cup finely chopped celery
1  8 oz package of vegan chik'n strips, cut into 1/2 inch pieces
2 cups (dry) of your favorite noodles
Make it happen:
Prepare the Manischewitz soup mix according to instructions, set aside the Matzo ball mix for another experiment at a later date to make them vegan.  Once the soup mix is beginning to boil add the carrots and celery.  Let that simmer for a total of 20 minutes.  Then add the chik'n and noodles.  Simmer for another 15 minutes.
Makes about 6 servings.  Warm some rolls and serve with buttery vegan spread.  Yummy for the soul.  So easy to make a la semi-homemade.
1/11 update:  Sandy the made the soup for me 2 nights ago and we were out of fresh carrots and celery, so she used a frozen peas and carrots mixture instead, it was delicious and a fun twist on the usual version.
Have a healthy and delicious day.
Photo courtesy of Manischewitz.
Tags: compassionate eating, dairy free, going veg, healthy chicken noodle soup recipe, manischewitz, manischewitz matzo ball and soup mix, manischewitz soup mix, trying vegan, trying vegetarian, vegan, vegan challenge, vegan chicken noodle soup, vegan entree, vegan experience, vegan recipe, vegan soup recipe, vegan wannabe, vegetarian chicken noodle soup, vegetarian recipe, vegetarian soup recipe