Happy Meatless Monday.
I have found that making one dish that we can enjoy several times makes it much easier to eat healthy, meatless meals even when  I am in the middle of a harried week or weekend.
On Saturday in the middle of  a seven hour volunteer shift with our animal shelter, I came home and made a kale chop salad. I did not have time for much else and needed alot of nutritional bang for my buck.  We enjoyed it for lunch, then again on Sunday for breakfast before our run. You can't beat that…one salad=two meatless meals for two.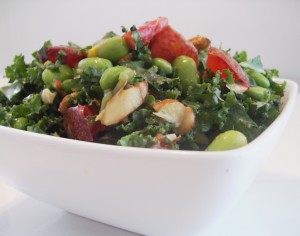 Kale Chop Salad w/ Fresh Plums and Almonds
by: S. Duquet
Ingredients
~6 C finely chopped kale ( I used curly kale)
~2 C shelled edamame ( I purchased mine frozen so I cooked them in boiling water for five minutes then plunged them into ice water to cool)
~2  diced plums
~1/2 C chopped almonds
Dressing Ingredients
~2 Tbsp Dijon mustard
~1/2 tsp agave
~1 tsp black sesame seeds
~the zest and juice from one hefty orange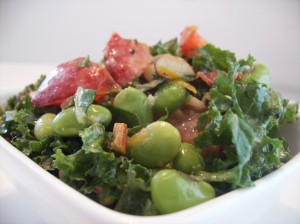 Make It Happen
~Chop the kale and put into a large salad bowl
~Add almonds and edamame (if you are going to save some of the salad for another day, reserve some of the fruit and add them right before serving so your salad does not get soggy.)
~Put all dressing ingredients into a  mason jar, or a tightly sealable jar and shake vigorously.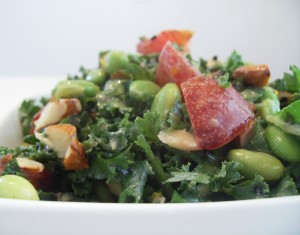 ~Add desired amount of dressing to your salad and store the rest in the fridge.
Following the approach of  Isabella's Chop Salad, I chopped the kale into bite size pieces, which altered the texture in a very pleasing way.
I frequently feel like raw kale can come across like a vegetation bully. Too loud, belligerent. This salad was like raw kale after charm school, refined and decadent.  Try any fruit or nuts you enjoy, switch them up frequently and have a big  bowl of this in the fridge for when you have more hunger than you have time.
Have a delicious day.
Reminder:  Only 4 more days.  Enter to Win! You can win 2 tix to No Beast Feast, vegetarian fundraiser dinner benefiting the Dearborn Animal Shelter.  Easy to win, just comment on any blog post or on Exploits Facebook page.  Good luck, hope to see you at No Beast.
Tags: compassionate eating, dairy free, E2 friendly recipe, going veg, kale salad, Meatless Monday, Meatless Monday recipe, oil free dressing, oil free recipe, orange salad dressing, plant based diet, vegan recipe, vegan salad dressing, vegan wannabe