Yesterday, on day two of the 15 day Re-boot Juice Fast, I made the closest thing I could find that could replicate a tortilla chip. In twenty four hours I went from brand new and excited juice faster to," Oh my god if I don't dip something into something and eat it, I am going to freak out."  In this part of the fast, we are still doing both eating and juicing of only fruits and vegetables.  It is the second five day period when we will be juicing only, followed by  the last five days of eating fruits and veggies with juicing.  For more details, see an earlier post, sharing about the Fast.
This first recipe is from the Fat, Sick and Nearly Dead, Re-boot your life site and the other recipe I created to celebrate the extraordinary,  fresh corn on the cob we are seeing in abundance right now.  Together, they made an exciting snack.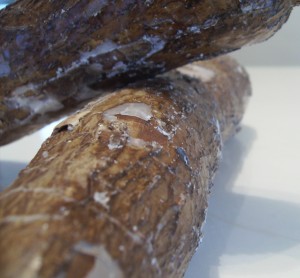 Yucca roots are so strange and surly looking. Until now, I had never prepared one. I thought the outer skin looked like it may never come off. I wasn't sure it would until Sandy found the most amazing tip on Ehow.com for how to peel a Yucca.  Alas, we need never be intimidated by Yucca again.
Yucca Chips by Re-Boot your life
Ingredients:
1 large yucca root (Mine was relatively long and the diameter of an average plantain)
1 tsp coconut oil (They used Olive Oil)
salt and pepper to taste
Make it Happen:
~Put Yucca in the microwave for two minutes to loosen the skin. Carefully make a verticle slit all the way down the Yucca with a pairing knife and peel away skin. With a peeler, carefully remove any excess brown skin until you are at the all white insides.
~Using a Mandolin or knife, cut Yucca into very thin chips.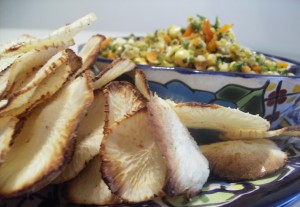 ~Toss a handful at a time in a large bowl with 1/4 tsp coconut oil and salt and pepper to taste. Lay chips on your baking sheet .
~Repeat until you have used 1 tsp oil total and all of your chips are on your baking sheet.
~Bake in a 350 degree oven until the edges are brown and chips are crispy. Serve immediately with Fresh Corn Salsa, recipe below.
Fresh Corn Salsa
by S. Duquet
Ingredients:
Kernels from 3 cobs of raw corn
1 Poblano pepper finely diced ( I tasted mine while I was chopping to make sure it wasn't too hot for raw salsa)
1/3 C fresh lime juice
1 C orange pepper (feel free to use red or yellow)
1 tsp agave
1/2 tsp chili powder
1 tsp garlic powder
1/8 tsp cayenne powder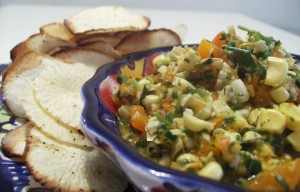 Make It Happen:
Put all ingredients in a bowl, mix thoroughly, cover and allow to chill.
You may store left over chips in an airtight container. Mine became very crispy the next day…bordering on hard, but I enjoyed them anyway.  They are the best consumed the same day you make them, but they will keep.
Notes From The Juicer Day Three
The first two days have been fantastic. I have concocted some phenomenal juices and Sandy and I both have created a few tasty recipes for all fruit and veg dishes. I have embraced my herbal tea mornings, hummus free evenings and questions from curious coworkers. I have been enjoying myself and have felt optimistic and successful working up to the full on juice fast.
That was until six o'clock this morning when the juicer broke. The on/off switch literally broke off the machine in my hand rendering the machine in full boar juicing  mode even though it broke in the off position. It was like a Stephen King movie where the appliances go mad and continue to run even though they are technically off and broken. Sandy was able to do her MacGyver magic on it and she believes that we will be able to squeeze some juice out of it tomorrow. I'll let you know. In the meantime, we are in the market for a new juicer. Have a delicious day.
Tags: compassionate eating, Fat Sick and Nearly Dead, Reboot your life, vegan, vegan appetizer, vegan snacks, vegan wannabe, vegetarian appetizer, vegetarian snacks