Happy  Winter Solstice. To honor light, darkness and Yule logs burning brightly all over the world…..I give you Spicy Dark Chocolate Bundles. They are dark chocolate smothered, hearty pretzels dusted with either cayenne pepper or black pepper and cinnamon. They are dark, spicy, sweet and rich. They have captured the warmth of a crackling winter fire in an edible confection.  These will make a smashing, last minute gift or dessert for your festivities over the next few days.
Spicy Dark Chocolate Bundles
By: S. Duquet
Ingredients
~Vegan dark chocolate chunks or bars for melting (chips do not work well for this)
Bag or box of large pretzels (I used Snyders of Hanover Homestyle pretzels because they are slightly smaller than Bavarian Dutch Style and larger than pretzel thins.
Spices: Ground cayenne, ground black pepper, ground cinnamon
Candy thermometer (these are inexpensive and can be found at grocery or department stores like Target and Meijer)
Make It Happen
~Melt half of your chopped chocolate in a double boiler on low heat. You want this to happen slowly and without any steam coming from the water
~While chocolate is melting prepare a cookie sheet with a piece of parchment or wax paper.
~When the first portion of the chocolate is completely melted and up to temp (115 degrees), stir in your remaining chopped chocolate to temper your melted chocolate.  You want to stir vigorously to incorporate as much air as possible. This is what creates shiny and luxurious, artisan quality chocolates. Here is a link to an easy to understand explanation of tempering your chocolate by Liz Gutman. Thank you Liz. It helped me a great deal.
~Break pretzels into bowl of tempered chocolate until you have a chunky mixture that is more pretzel than chocolate.
~Drop chocolate stacks onto parchment lined baking sheet.
~Dust with cayenne or black pepper and cinnamon.
~Store in air tight container until ready to enjoy.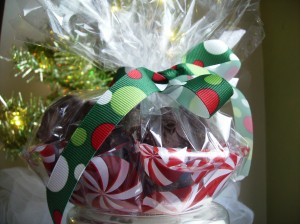 Handcrafted chocolates are easy to make and such a beautiful thing to serve. They are impressive and flavorful  beyond their investment and that is the tastiest part.
Have a delicious day.
Fiery image courtesy of blogs.citypages.com
Tags: dairy free, dairy free desserts, plant based diet, Spicy Dark Chocolate Bundles, vegan challenge, vegan chocolate recipe, vegan chocolates, vegan dessert, vegan dessert recipe, vegan experience, vegan holiday food gifts, vegan holiday gifts, vegan wannabe