Happy Meatless Monday.
Like many of you across the country, Michigan has been plunged into a  blistering cold,  crunchy, barren world of white. It feels more  like Antarctica than my home.  The first night of the storm the snow tumbled from the sky, heavy and wet…perfect for packing. My best friend Amy and I suited up in our warmest warmies and headed out to create the most beautiful Snow Girl this block has ever seen. And so we did.
She became a six foot tall, svelte Snow Queen, complete with airbrushed evening gown and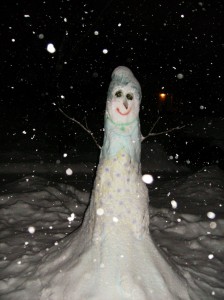 emerald necklace. We made her flirty green eyes with lime halves and kalamata olives. She had an organic carrot nose and an incredibly friendly smile.  It never occurred to me that making a Snow Queen would be the most insane workout ever, and inspire an almost insatiable  hunger.
As my luck would have it, as Amy and I were re-purposing the blizzard, Sandy was crafting a masterpiece of her own, Baked Potato Soup. It is my most favorite soup and the very best way to come in from the cold.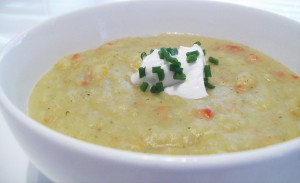 Baked Potato Soup
by: S. Boulton
Ingredients:
3 ½ Pounds of Yukon Gold potatoes, peeled and cut into 3/4 inch pieces
1 Red bell pepper seeded and chopped
1 Ten ounce package of frozen chopped broccoli
4 C of chick'n flavored stock (We used Not-Chick'n,  Rich Golden Broth And Seasoning bouillon cubes. You can find them at most chain grocery stores. They are the best.)
½ Tsp. garlic powder
½ C soy creamer
½ C sour cream (we used Tofutti)
1 Tbsp. cornstarch
1 Tsp. black pepper
Make It Happen:
~Combine potatoes , red pepper, broccoli, garlic and stock in crock pot. Cook on high heat for 3 hours or on low heat for 6 hours, until potatoes are tender.
~In a small bowl, stir together creamer, sour cream, corn starch and pepper.
~Remove crock pot lid (watch out for built up steam) and mash potatoes, leaving some pieces for a hearty soup . Stir in creamy mixture until thoroughly combined.
~Ladle  into your favorite bowls and garnish with dollop of sour cream and chives.
The most sensational part of this soup is that it is full of veggies that become virtually non existent. It is potato soup with a nutritional upgrade. It is also a cinch to make because you can put in your crock pot and walk away. This dish  is the edible equivalent of a fleece blanket that has just come out of a dryer on high. It is like heated slippers and a hug from someone you really love.
Have a delicious day.
Tags: ENgine 2 friendly recipe, Engine 2 friendly recipes, healthy potato soup, low sodium recipe, low sodium soup recipe, Meatless Monday, Meatless Monday recipe, Meatless Monday soup, potato soup, vegan baked potato soup, vegan potato soup, vegan soup, vegan wannabe