Happy Meatless Monday.
On our most recent trip to Florida I got re-addicted to fresh juice. There was the most bizarre cafe/store/gas station by our hotel that was cranking out some serious fresh juices.  My new fave flavor combination is apple, beet, ginger. It is sweet and earthy with a slightly aggressive ginger bite.
Now that I am back in the Michigan tundra (currently 15 degrees and under a foot of snow) the ginger feels healing  and protective. Every morning as I drink it on my way to work I envision myself being outfitted in a suit of germ fighting armor.  It makes me feel like I am impervious to the clouds of sniffling and sneezing coworkers and customers I share space with.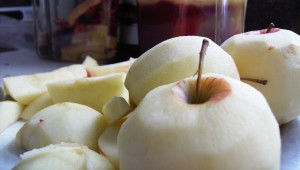 If you have a juicer or have asked for one for Christmas…I implore you to try this recipe. It may be your new favorite. I am using my Omega Vrt350  juicer which I absolutely love. This is their "vertical" model and it really is an effective appliance.  It juices with ease and creates a juice-bar worthy concoction.  A tip I recently read was that if you peel your apples before juicing, your juicer will clog less. It worked like a charm.
 Apple Beet Ginger Juice
by: S. Duquet
Makes 24 ounces
Ingredients
14 small, peeled and sliced apples (I used organic granny smith and gala)
4-5 inches peeled and chopped ginger (This will create a very spicy juice. Use less or more to taste.)
5 small peeled and chopped beets (I have used both raw and steamed. Both are excellent.)
Make it Happen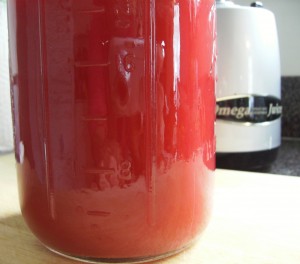 ~While you are juicing alternate between apple, beet and ginger for optimum blending
~I pour my juice through a fine strainer before guzzling it down. I store any leftover juice in a glass mason jar in the fridge
This gingery juice will wake up your insides, make you feel like a warrior and start your day off super charged.  You deserve it.
Have a delicious day.
Tags: compassionate eating, juice fast recipes, juice recipes, Meatless Monday, Meatless Monday breakfast recipe, Omega juicer, Omega vertical juicer, Omega VRT 350, plant based diet, vegan wannabe