Happy Meatless Monday I have much to share and celebrate.
For the celebratory side, we have a Winner in the No Beast Feast ticket giveaway for this Friday, September 20th. Drumroll please and a high vegan five to Lisa N. for sharing her favorite comfort food, vegany spinach dip with pumpernickel bread.   Lisa won 2 tickets so she and a guest can join in the festivities and indulge in a vegan feast.  Thank you to all who entered the contest.
If you would like to join us at No Beast Feast, tickets are still available online from the Dearborn Animal Shelter here.  It is an inclusive ticket with appetizers, salad, entrees, sides, homemade bread and dessert, plus beer, wine and soft drinks.  $45 in advance/$50 door.  There are door prizes, a tin can raffle, presentation by Dr. Kerrie Saunders (Dr. Food) and silent auction items. You will leave stuffed with food, information and a major positive vibe from helping homeless animals.
Next is my new favorite recipe for baba ganoush.  I love, love Middle Eastern food and have recently developed an addiction to the eggplant version of hummus, baba ganoush.  It has an overtone of eggplant with the familiar creamy, nutty, garlic, salty, tahini familiarity of hummus. The exciting thing is that baba ganoush is on the ever growing list of things that I now love since becoming vegan. Becoming vegan shook up my taste buds and helped me reopen the door to things that I had previously disliked.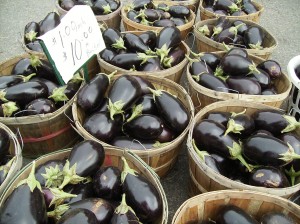 Baba is one of those things. Because I now love it so much I thought I would try my hand at making my own. I am thrilled with how it turned out and think you will enjoy the simplicity of this recipe.Plus, eggplant is in season right now and they are practically giving them away on every street corner.
Baba Ganoush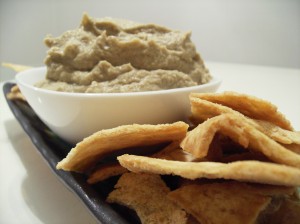 by S.  Duquet
Ingredients:
3 medium whole eggplants
1 15 oz can organic (choose organic if you can) chick peas, rinsed and drained
1/3 C fresh lemon juice
1/3 C water
1/4 C tahini
1 Tbsp granulated garlic
1 1/2 tsp sea salt
Make it Happen:
~Preheat oven to 350 degrees farenheit.
~Rinse the eggplant and using a fork poke several tynes of holes in each one.   Coat a grill pan with spray oil and warm to medium heat (or fire up your grill).
~ Set the eggplant on the grill pan and lightly char each side evenly for a few minutes, 15 minutes total time.   The more charred the eggplant becomes, the more smoky your finished product will be.
~ Remove eggplant from grill pan (or grill) and put on cookie sheet and finish cooking the eggplant in the oven for about 40 minutes.  If you do not have a grill pan or grill, you could roast the eggplant entirely in the oven for the whole 55 minutes cooking time.
~Remove eggplant from oven and let it cool for a few minutes until you can handle without burning your fingers.  Move eggplant to a cutting board  and remove the stem and skin.  Place eggplant (with skin removed)  in a collander and allow to drain for 10 minutes.
~Place eggplant, chick peas, lemon juice, water, tahini, garlic and sea salt in a food processor and puree until smooth and creamy.  I like mine really creamy, but if you like yours with a bit more texture, feel free to just pulse.
Note:  If you wanted to have a more charred flavor to your baba ganoush, you could cook it entirely on a grill, or even add some liquid smoke to the above recipe.  Go lightly with liquid smoke if you use it, starting with a 1/4 tsp at a time and add to taste.  It is pungent in the concentrated liquid form.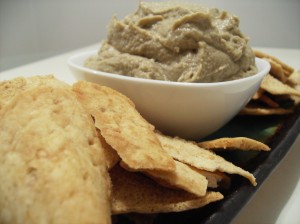 Now you have enough baba ganoush to feed your entire neighborhood. Use as a sandwich spread, bagel topper, dip for veggies or thin it out for an amazing salad dressing. I love knowing exactly what goes into my food when I am able to make things myself. I think you are really going to enjoy  creating your own baba ganoush.
Have a delicious day.
Tags: compassionate eating, cooking with eggplant, Meatless Monday, Meatless Monday recipe, plant based diet, trying vegan, vegan appetizer, vegan dip, vegan side dish, vegan wannabe