Happy Meatless Monday friends.
Today it was a high of 18 degrees in my Michigan town. The wind was howling and snow kept falling. Time for a warm dessert. I wanted to warm fruit, both fresh and dried and so I created this winter fruit bake.  To celebrate the fruit I left the bake naked then topped it with a vanilla bean cashew whipped cream.
In order to create the vanilla bean cream you will need to soak your cashews for five hours or overnight in the fridge.
Vanilla Bean Cashew Whipped Cream Ingredients
3 C raw cashews covered in water, 1Tbsp Vanilla and 1 Tbsp agave. Cover and soak for at least five hours. Then drain before use.
2 tsp pure vanilla extract
1/4 C water
1/8 C agave
1 vanilla bean split in half lengthwise.  Scrape the powdery inside from the bean
1/4 C liquified coconut oil
splash of non dairy  milk while whipping
Make Whipped Cream Happen
Put drained cashews and all other ingredients except non dairy milk  in food processor or high speed blender and whip at high speed until creamy and thick. Add a splash of non-dairy milk at the end and pulse once more.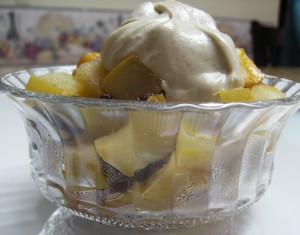 Winter Fruit Bake w/Vanilla Bean Whipped Cashew Cream
by: S. Duquet
Fruit Bake Ingredients
2 Granny Smith apples
2 red apples of your choice
2 pears of your choice (I used Bosc)
3/4 C dried currants
1/2 C golden raisins
1 tsp vanilla
3 Tbsp water
zest and juice of two oranges
Make the Bake Happen
Preheat oven to 375 degrees
Dice apples and pears into 3/4  inch cubes (don't stress about the size, just don't cut them too small or they will cook down too far)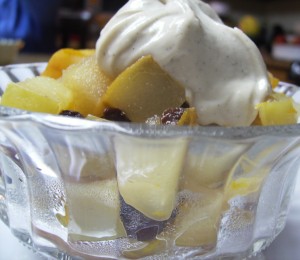 Stir all ingredients together in a lightly sprayed casserole dish
Cover and bake until tender but slightly crisp, about 25 minutes.  Check to see if the fruit has softened but still remains a bit al dente, continue baking until desired consistency.
The warm pears and apples were fragrant and sweet. The currants and raisins became plump from the juice of the oranges. Topped by a dollop of vanilla bean whipped cashew cream, this dessert brought some warmth to a biting cold day. If you have any leftover baked fruit, it will make an amazing topper for oatmeal or pancakes.
Have a delicious and warm day.
Tags: baked dessert, baked pears currants and apples, baked winter fruit dessert, Engine 2 friendly dessert, Meatless Monday, Meatless Monday dessert recipe, Meatless Monday recipe, non-dairy dessert, non-dairy whipped cream, sugar free vegan dessert, vanilla bean cashew cream whipped cream, vanilla bean vegan whipped cream, vegan dessert, vegan wannabe, Winter fruit bake