Happy Meatless Monday.
Yesterday as we were running I began to crave kale and rice pilaf the way you would crave an ice cream cone or piece of chocolate. The thought overwhelmed me and I blurted out, "Let's have sauteed kale and rice pilaf with portobello mushrooms and almonds for dinner."
When Sandy and I run we talk about food. Have you ever heard that  if you can't hold a conversation while you are running, than you are running too fast?  Well, we take that to an entirely new level and talk the entire time. Some of our best discussions and many of our greatest dishes have come out of the two or three hour stretch of a long run. This is one of those dishes.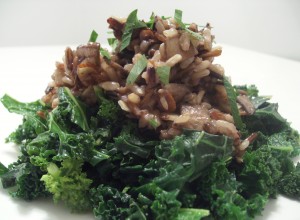 Portobello Pilaf on a Kale Pedestal
by: S. Duquet and S. Boulton
Ingredients
2 C cooked wild rice (we used Lundberg tri-color wild rice and it was superb)
6 oz chopped portobello mushrooms
1/2 C sliced or slivered almonds (or walnuts)
1 large bunch kale, approx 8 C, rinsed, de-veined and chopped
3 Tbsp liquid aminos (or light soy sauce), divided
1 1/2 tsp garlic powder, divided
1/4 tsp ground black pepper, divided
1/4 tsp ground rosemary
1/8 C water
1/8 C fresh chopped parsley for garnish
Make It Happen
Prepare rice according to instructions.  The Lundberg rice took 1 3/4 C water and 1 C wild rice, brought to a boil, covered and simmered for about 40 minutes.   With about 8-10 min of cooking time left for the rice to cook, lightly coat a large saute pan with spray oil.  Add the chopped portobellos, 1 Tbsp liquid aminos, 1/2 tsp of garlic powder,  1/8 tsp black pepper and 1/4 tsp of rosemary and stir to coat mushrooms.  Simmer until the mushrooms release their juices and begin to brown.  Uncover cooked rice and toss in the mushrooms.  Then, using the same saute pan, lightly warm the almonds, stirring, for about 1 minute, just long enough to release their nutty flavor.  Add those to the rice and gently stir together with mushrooms.
Again, in the same saute pan, add 1/8 C water (any leftover bits add to the flavor), kale, 1/2 tsp garlic powder,  2 Tbsp of liquid aminos and 1/8 tsp of black pepper.  Bring to simmer and stir gently for about 2 minutes, just long enough to wilt the kele but remain al dente. Remove kale from stove.  Place cooked kale on a plate, creating a bed or pedestal and top with large scoop of rice mixture. Sprinkle parsley on top.  Makes 2 hearty dinner servings or 4 side dishes.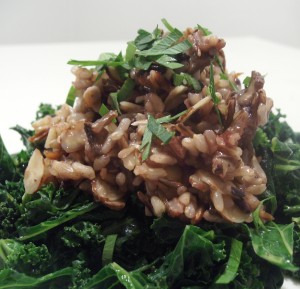 This simple meal almost blew me away. As I was eating it I was already thinking ahead at when we could make it again. There isn't anything extraordinary or heroic about it…but it was so amazingly delicious. The parsley topper is fresh and adds a lightness to this savory dish. It is easy to create and an excellent pick  for a meatless meal.  The key to this dish is  to remove the tough spine  from your kale when prepping it and when cooking,  be sure to leave your kale al-dente.  Warm it thoroughly, but leave it crunchy.
This pilaf on a pedestal would also make a smashing side dish or main dish for Thanksgiving.
Have a delicious Meatless Monday.
Tags: compassionate eating, cooking kale, going veg, Meatless Monday, plant based diet, portobello pilaf recipe, vegan entree, vegan pilaf, vegan side dish, vegan wannabe