Happy Meatless Monday and the last day of  the fifteen day juice fast.
I can hardly believe that fourteen days have passed.  There were many times when it felt too difficult to go the distance.  Sometimes, I wanted to break the fast and eat the entire contents of the first thing I could get my hands on. In those times I thought it would never end. My head hurt thirteen out of the fifteen days, I had to leave work one afternoon with a really painful belly and struggled at times with low energy. But here's the the interesting part….I now feel better than I think I have ever felt in my life. I feel clean, vibrant and connected. I no longer crave foods or beverages that feed me in a negative way. I have all the energy I need to run, work and stay motivated throughout my day and night.
I have found that juice feeds me in all the right ways, especially first thing in the morning. Coffee, even decaf and breakfast in the morning made me feel bloated and sluggish. I tried all kinds of things, but had never tried scrapping it all to begin again. Apparently I just needed to trust the earth and begin my day with fruits and veggies. Simple enough.
The fast was much harder than I thought, but has left me feeling better than I ever believed I could.  Honestly, I feel it is pretty remarkable to have experienced such dramatic results after only fifteen days. During the five day all juice portion in the middle of the plan I began to dream of consuming salads, baked sweet potatoes and anything I could enjoy with a fork. My lust for vegan cupcakes and crunchy snack foods fell away.  It was quickly replaced with dreams of avocados and kale chips. It was like boot camp for a craving brain.
The fifteen days presented an opportunity to strip away the foods, beverages and medications that were making me feel unwell or less than amazing. I now feel like I have pushed an imaginary reset button on my diet and my life. I feel whole. I feel excellent in my body mind and my soul. I am very glad that I even tried the fast because truthfully,  I was afraid. I was afraid to fail and break the fast. I was also afraid that detoxing would never end, but it did, and fifteen days later I would and will do it all over again.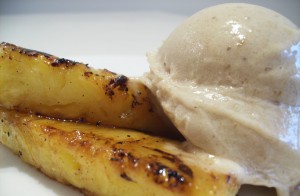 In honor of a successful fast and Meatless Monday, here is a link to my favorite vegan, all fruit dessert, Grilled Pineapple Steaks with Fresh Banana Ice Cream.    I just finished a very generous helping dusted with cinnamon. When grilling the steaks this time, Sandy omitted the brown rice syrup but brushed the pineapple slices with a dash of coconut oil before putting them on the grill…yum. You are going to love this one.
Have a delicious day.
Tags: compassionate eating, juice fast, plant based diet, trying vegan, vegan dessert, vegan wannabe