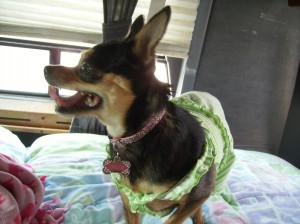 Next Friday we are having a soiree for Chloe's fourth birthday. She has a party every year complete with parting gifts and pupcakes for  attendees to take home for their own canine loved ones.   Sandy and I have planned a fab vegan menu  and are looking forward to celebrating the birthday of our beloved Chloe with our friends.
Since we became vegan, Chloe's treats have become all natural. Her favorite treat foods are strawberries, followed closely by spinach.  She is not however vegan. She eats high quality, organic, all natural dog food, but not vegan food, and I have struggled with this. I know without a shadow of a doubt that dairy products and meat are unhealthy for me to consume…..so why would they be okay for my nine pound dog? I am not sure the answer to that. I was afraid she wouldn't get enough of the right nutrients. I was just afraid because it is something I feel I know so little about.  I want her to have the best and I may have just found it.
 HALO, the pet food company co-owned by vegan superstar Ellen Degeneres has just launched a new vegan dog food called, Vegan Garden Medley.  According to their site, "As with all Halo products, this formula contains no artificial flavors, colors or preservatives and also no corn, soy or wheat gluten. Additionally, all vegetable ingredients are USA-sourced. The minerals in this formula are all in chelated forms in order to provide maximal absorption and the vitamins used are USA-sourced and also vegan. Halo is choosing to use the best possible real whole food ingredients in this formula—just as they do with all their foods."
That sounds pretty wonderful and worth a try.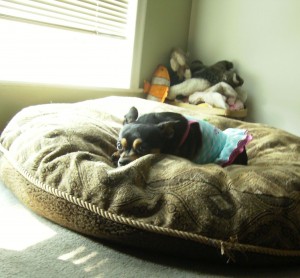 We adopted Chloe when she was a year old. She was rescued from a hoarding house where she lived in unfathomable conditions with 104 other chihuahuas. She had never, ever been outside, received medical attention or regular food. She defecated inside, ate feces to survive and was covered in  wounds when we adopted her. When we brought her into our  home, we had no idea if she could even become a companion because she was practically feral. Looking at her now…it is hard to believe that this is where she began. This is why we celebrate her and the enormous amount of joy she brings to our lives. She inspires everyone she meets and continues to astound me with her boundless capacity to love.  She deserves the best of everything…including food. I will let you know how she enjoys her party and new vegan dog food.
Have a delicious day.
Tags: compassionate eating, Ellen DeGeneres' dog food line, Halo, Halo vegan dog food, plant based diet, trying vegan, vegan dog food, vegan wannabe