Happy Meatless Monday.
I have a recipe to share that is going to change the way you enjoy peanut butter cookies forever.  My friend Katie made these cookies she found on TreeHugger.com and they were  insane enough to share with me. I have since made them myself and have nearly come unhinged knowing they are in the house. They are that good.
The original recipe is from Jaymi Heimbuch of TreeHugger.com. I made very few modifications because why tamper with perfection?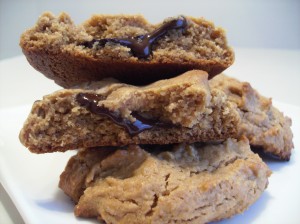 Dark Chocolate Stuffed Peanut Butter Cookies
Ingredients:
2 cups whole wheat pastry flour, or cup-for-cup gluten-free flour blend
1 teaspoon baking soda
3/4 teaspoon fine grain sea salt
1 cup organic smooth peanut butter (I used natural Jif because it is my favorite for baking) *See note below
1 cup agave nectar
1/3 cup extra virgin olive oil
1 1/2 teaspoons vanilla extract
1 bar vegan fair-trade dark chocolate, such as Sweetriot's dark chocolate with coconut, cut into squares (I used an 85% cacao bar)
*Jif Natural has the most intense peanut buttery flavor so it is my preference for baking. It is however more oily than all natural peanut butter. I added almost 1/2 cup  more whole wheat pastry flour to accommodate for using this peanut butter.
1. Preheat oven to 350F degrees. Place a rack in the middle of the oven.
2. In a medium mixing bowl combine the flour, baking soda, and salt, stirring with a fork to sift.
3. In a large bowl combine the peanut butter, agave nectar, olive oil, and vanilla. Whisk to thoroughly combine.
4. Pour the flour mixture over the peanut butter mixture and stir until just barely combined.
* I refrigerated the dough at this point for 10 minuter before continuing  to make the cookies, which made it very easy to work with.
5. Take a piece of dough about the size of a golf ball and press an indentation in the center. Add a square of chocolate to the indentation.
Fold the edges over to completely cover the chocolate, taking care not to not work the dough too much. Place on the baking sheet and press to slightly flatten.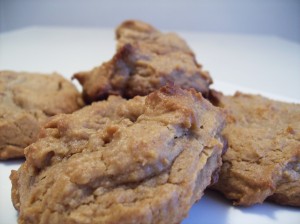 Depending on how chocolatey you want your cookies, adjust the amount of dough per cookie. Smaller cookies mean more chocolate flavor, larger cookies mean more peanut butter flavor.
6. Bake for 12 minutes (or 10 minutes if you have made smaller cookies). ** I baked mine for 9 minutes.  Bake until just barely golden brown, taking care not to over-bake. Let cool five minutes on the tray, then transfer to a cooling rack.
I took one right off the scalding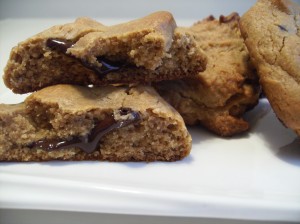 hot tray and ate it. It took off the roof of my mouth. They are good enough to make you do things you will quite possible regret. I'm okay with that.
Have a delicious day.
Tags: Meatless Monday, Meatless Monday recipe, vegan cookie recipe, vegan dessert, vegan peanut butter cookie, vegan wannabe