Happy Meatless Monday.
The gifting season is upon us. Gifts for teachers, neighbors, friends and family. My favorite gifts to give are always  from our kitchen.  A foodie gift says, " You are so special to me that I would like to nourish you with something I made myself." That  kind of gift is always well received.
I have compiled a short list of my fave five vegan food gifts.  These  recipes are fun to make which adds to the experience of making something special for others this season.  None of these recipes are difficult to make, but the simplest one of the bunch is for the Fresh Chia Seed Jams.
The jams are so simple, it is nearly silly and they don't require heating at all.  It makes a bright, fresh jam recipe and you can easily modify it for your favorite fruit variety.
Peanut buttery chocolate cheesecake is a vegan nod to the traditional cheesecake and sure to delight your recipients.  It is rich and creamy just like it's dairy counterpart and is made with love and entirely plant-based.   If you  make one for gifting, you may want to whip up a second one to keep in your refrigerator too.
Any of these recipes would be a great addition to a brunch gathering or some of them for a dessert to pass.  I hope you enjoy creating and sharing them.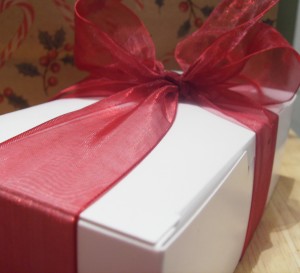 Pistachio Lemon & Almond Orange Biscotti
Eggnog Shortbread w/Nutmeg Scented Icing
Carrot Cake Muffins w/Date Butter
Peanut Buttery Chocolate Cheesecake
Have a delicious day.
Tags: almond ginger biscotti, carrot cake muffins with date butter, Eggnog shortbread with nutmeg scented icing, fresh chis seed jam, Meatless Monday, Meatless Monday recipes, peanut butter chocolate cheesecake recipe, pistachio lemon biscotti, vegan biscotti, vegan cheesecake recipe, vegan food gifts, vegan holiday gifts, vegan shortbread