Happy Meatless Monday.
When I was a little girl, we always had quiche on Christmas morning. It was my Mom's thing. She made it every year and it was divine. It was the most decadent way to celebrate  a holiday that always began so early in the morning.
Since becoming vegan, Sandy has perfected vegan quiche. Choosing a more compassionate way to dine does not mean that you have to go without. The only thing this quiche is missing is cholesterol and cruelty. This may become your go-to recipe for the perfect breakfast or brunch.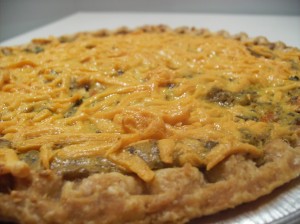 Sausage and Red Pepper Quiche
Makes 4-6 generous servings.
by S. Boulton
Ingredients
1 lb of firm tofu, drained and pat dry
1/2 C soy creamer or regular soy milk (almond milk would work too, just not sweetened or vanilla flavored)
1/4 C fresh basil
2 Tbsp liquid aminos
2 Tbsp nutritional yeast
1 Tbsp Italian seasoning
2-3 tsp turmeric, add more or less based on desired color (the more turmeric, the more yellow it becomes)
1 tsp garlic powder
Cracked pepper to taste
2 C browned sausage, diced  (I used GimmeLean, but crumbles or diced Italian sausage links would work too)
1 C  chopped red bell peppers
1 C shredded vegan cheddar cheese, divided in half  (I used Daiya, but any vegan cheese and flavor would work)
1/4 C fresh parsley, chopped fine
1 frozen pie crust (I used Marie Callendar and it was lovely, but you could use  one of your own creation too)
Make it Happen:
Thaw pie crust and pre-bake according to package instructions, set aside to cool.
In food processor or blender, blend together tofu, creamer, fresh basil, liquid aminos, nutritional yeast, Italian seasoning, turmeric, garlic powder and cracked pepper until smooth and slightly pourable.
Meanwhile, simmer sausage in lightly oiled saute pan until lightly browned.   Remove from pan and saute red pepper until it softens a little.  In large bowl, mix together sausage, red pepper, fresh parsley, tofu mixture and 1/2 C of shredded cheese.  Pour into cooled pie crust and top with remaining 1/2 C of cheese.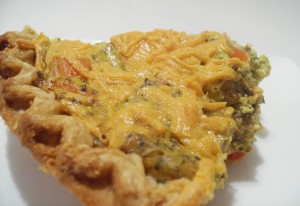 Cover and bake  in 425 degree oven 40 minutes.  Uncover, turn and continue baking for another 20 minutes or until knife that you put next to center comes out pretty clean, only slightly moist.  Let stand for 10-15 minutes before serving.
If this is your first veg holiday, if you are hosting a vegetarian/vegan, or if you are just curious about another way to rock out breakfast….give this quiche a try. You will be astounded by how rich and dense the flavor is.  Holidays are meant for decadence but that does not have to mean in a way that harms others.  This way you can have it all.  Serve with mimosas to blow your friends and family's minds.
Have a delicious day.
Tags: compassionate eating, healthy quiche, Meatless Monday, Meatless Monday breakfast, Meatless Monday recipe, plant based diet, quiche, sausage and red pepper quiche, vegan brunch recipe, vegan holiday recipe, vegan quiche, vegan wannabe