Happy Meatless Monday and National Vegan Month.
I have a fun and easy recipe to shore up your dinner plans. This dish is an inspiration from my friend Claire and happens to be a scandalous combination of  Mexican food and pizza, two of my favorites.  It is nearly as easy as the drive thru because you are taking creative license with pre-made tortillas and canned beans.
Having a hectic day does not have to  preclude enjoying a delicious, healthful dinner. You need fuel for your body and mind. You can get it on the table in minutes.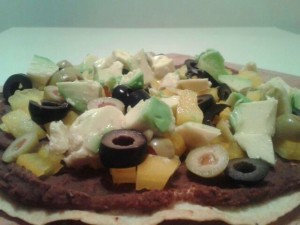 Mexican Flour Tortilla Pizzas
makes 2 individual pizzas
by: S. Duquet
Ingredients
2 large  flour tortillas (I used 9 inch in diameter)
1 C vegetarian refried black or pinto beans
1 C chopped peppers ( I used yellow)
1 C chopped olives (I used black and green)
1 diced avocado
Make it Happen
~Preheat oven to 350 degrees then get out a skillet and large baking sheet
~Spray your skillet with non stick spray or lightly oil and brown both sides of your tortillas on low to medium heat.
~Heat refried beans (I warmed them in a microwave, but you could also do them stovetop) then spread evenly on each tortilla.
~Put bean coated tortillas on baking sheet and heat in the oven for 10 minutes
~Remove tortillas from oven and top with your veggies.  Slice with a pizza cutter or long knife and enjoy. I served ours with fresh salsa and a side of  cumin green beans spritzed with lime. Get wild and top your pizzas with vegan cheese, chopped cilantro or diced green chiles.
You are going to love these for a quick snack, dinner or holiday appetizer.
Have a delicious day.
Tags: Engine 2 friendly recipes, healthy Mexican food, healthy snack recipes, Meatless Monday, Meatless Monday entree, Meatless Monday recipe, Mexican flour tortilla pizza, Mexican pizza, vegan appetizers, vegan entree, vegan mexican food, vegan snack, vegan wannabe