I wrote this yesterday in flight on the way home.
We are on the plane speeding back to Detroit. We have been in Florida for ten days for our niece's Bat Mitzvah and our half marathon. It has been a magnificent trip.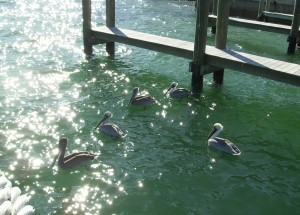 We have enjoyed fantastic vegan food and have seen more wildlife in their natural habitat than on any previous trips to Florida.
Here are some of the highlights of our vegan travel adventures:
~Receiving a welcome gift pack from Sandy's sister's family that included vegan chocolate chip muffins handmade by our 13 year old niece Isabella.  A bracelet for each of us designed by our nine year old nephew Ben. I have never felt so welcome in all of my life.
~The Bat Mitzvah of our niece Isabella. Watching her read from the Torah for the first time was staggering. Her poise and grace were well beyond her years.
~Watching a flock of lime green parrots fly by our balcony while having morning coffee.
~Running on the beach.
~Seeing a six foot alligator on the golf course while having the time of my life golfing with Sandy and our friend Amy.
~A rare sighting of white pelicans soaring overhead as we boarded the boat to Shell Key.
~Spotting a young manatee swimming near the dock, enjoying the shallow warm water.
~Stepping on a stingray, getting a barb stuck in my foot then running a half marathon anyway.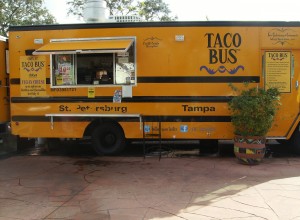 ~Having an unbelievable lunch at the Taco Bus food truck in St Petersburg. We sat in the shade and enjoyed inspired vegan, Mexican cuisine. The Taco Bus offers tempeh, marinated tofu and vegan cheese. I orderd a tempeh taco and that made my heart sing.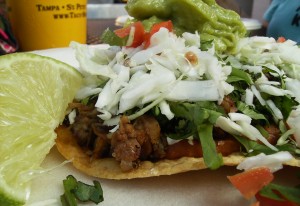 ~Watching a school of 10 manta ray swim by while standing on the beach on Shell Key,  an uninhabited bird sanctuary.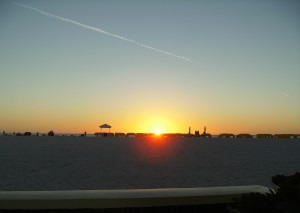 ~Cocktails at sunset on the beach sitting in front of a firepit warming our sandaled feet.
~Seeing dolphin playing in the Gulf of Mexico from our balcony nearly everyday.
~Finishing the Women's Only Half Marathon with Sandy by my side. Receiving a huge medal, then partying like rock stars for the rest of the day.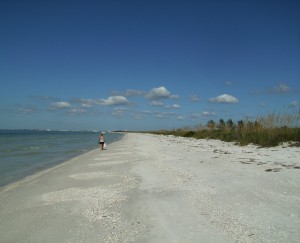 It was one of the best trips to Florida we have ever had. Each sun shiny day melted into the next filled with the scent of sunscreen and fresh air.
Yesterday when I spoke to my sister in Michigan she told me that it was eleven degrees when she woke up. Believe me when I tell you. if I thought I could safely turn this plane around I would .
Thank you St Pete Beach for once again welcoming this vegan wannabe and treating her like a local. I miss you already.
Have a delicious day.
Tags: Taco Bus St Pete, traveling vegan, vegan travel, vegan travel in Florida, vegan wannabe