Happy Meatless Monday.
Winter squash season is here. There are boundless varieties to be found in our markets. Each one is a little bit different, all equally as delicious and easy to prepare. Time to buy them, store them and enjoy them for the next several months.
This recipe creates a rich and satisfying dinner or side dish.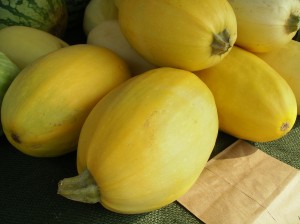 I used spaghetti squash, which I think is the most fantastic of all the squash. Once it is roasted, the meat of the squash peels out in threads, exactly like spaghetti.  You can top it with anything you would put on a spaghetti noodle. With this dish I took it very savory with handmade olive tapenade and pine nuts.
I think you are going to love it for an easy meatless meal.
Mediterranean Style Spaghetti Squash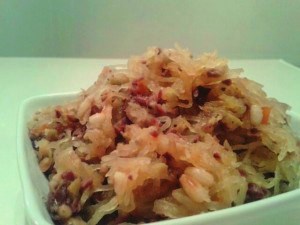 by: S. Duquet
Ingredients:
1 medium spaghetti squash (mine was 9 inches long)
1/3 C Pine nuts ( I started with raw)
Olive Tapenade Ingredients:
1 C olives (I used a mixture of green and pitted kalamata olives)
1/8 tsp black pepper
1/2 tsp garlic powder
Make it Happen:
~Preheat oven to 400 degrees
~Cut squash in half and scoop out seeds. Place face down on a baking dish and put an inch of water in the dish. Be very careful when removing the pan from the oven that you don't splash the water on yourself. Serious dinner wrecker.
~Roast squash for 30 minutes face down, then  for an additional 10-15 face up, or until it is fork tender.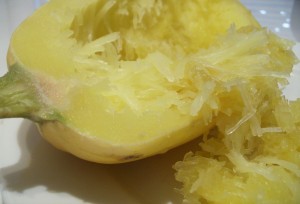 ~While the squash is roasting, make the olive tapenade. Place olives, pepper and garlic powder in food processor and pulse several times until olives are very finely chopped and spices are blended.
~Remove squash from oven and allow to cool long enough until you can touch it. Using a fork, begin to scrape out the meat of the squash, which will come out in threads.
~In a dry saute pan over medium heat, lightly roast pine nuts, continuously stirring, until they are lightly brown. Add olive tapenade and squash and heat thoroughly. While stirring you may need to use your fork again to pull apart the threads of spaghetti squash.
Enjoy with a biggie salad and vegan garlic bread for a smashing Mediterranean  style meatless meal, without added oil or salt.
The olive tapenade can be used as a dip or spread as well and is made without extra oil or sodium, which is a nice way to make this a healthier twist on a delicious Mediterranean favorite.
Have a delicious day.
Tags: compassionate eating, Engine 2 friendly recipes, low sodim recipe, Meatless Monday, Meatless Monday entree, Meatless Monday recipe, oil free recipe, plant based diet, vegan olive tapenade, vegan wannabe