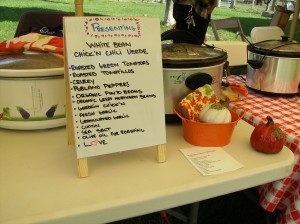 Over the weekend I became a competitor in my first ever chili cook-off. The experience was a bit more intimidating that I had anticipated. The all-vegan competition was held at Sasha Farm, Michigan's largest  farm animal sanctuary.
I kind of expected all of us to show up, cruelty-free crock pots in hand and hang out swapping seitan recipes while drinking hot cider. It was nothing like that. The chill in the air was elevated by the palpable desire to win.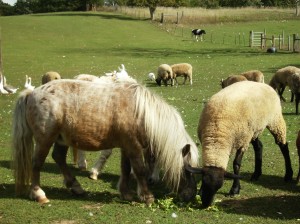 We handed out chili relentlessly for at least three hours. There were hundreds of visitors to the farm seeking chili samples and a peek at the new hens, oxen and baby cows.
It was a beautiful day on the farm.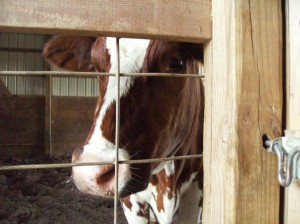 Vegan nachos were consumed, winners were crowned and we were all reminded that farm animals, all animals have the  ability to feel and to express love as clearly as any other living thing that we admire and choose not to eat.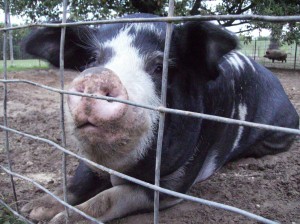 Being there was a poignant reminder  that they are not disposable.
Here is my new favorite chili recipe. I used green tomatoes which are easy to find right now. Because you roast the tomatoes, tomatillos and peppers first, you are able to achieve an all day chili flavor after only an additional 40 minutes on the stove.
It is a chili verde recipe with a short ingredient list and no processed seasoning packets. It is the real deal and I think you are going to love it too.
White Bean Chick'n Chili Verde
by S. Duquet
Ingredients for roasting
12 green tomatoes rough chopped in 1-2 inch pieces
6 tomatillos peeled and rough chopped
1 1/2 poblanos seeded and rough chopped
* Pepper notes-*Whenever I add peppers to a dish I always taste a little sliver first. I know this sounds painful and somewhat distasteful but how can you know how much heat you are adding without tasting it first?  The poblanos I added were hot for poblanos and mild for jalapeno.
7 cloves of garlic peeled
1 Tbsp + 2 tsp olive oil for roasting
2 tsp sea salt
1/2 tsp black pepper
Make it Happen
~Preheat oven to 375 degrees
~Toss tomatoes, tomatillos, poblanos and garlic in olive oil.  Sprinkle sea salt and pepper over ingredients and stir again.  Roast together for approximately 40 minutes or until vibrant and toasty but not burned
~Allow roasted veggies time to cool enough to touch, then peel the thin, clear, outer skins off of the tomato and tomatillo wedges. If you are easily able to pull the skins, then those are the ones to remove.  The ones that give you resistance do not need to be removed.  This is the only labor intensive part of the chili. You may choose to skip this step but you may have bits of rolled up tomato skin in your finished product.
~Put all roasted veggies ingredients and 1 C water into food processor or blender and blend until smooth.
Chili Ingredients
2 15 oz cans organic Great Northern beans
2 15 oz cans organic Pinto beans
1 1/2 C diced celery
1 10 oz pkg frozen Gardein Chick'n Scallopini slightly  thawed and diced (or your favorite chick'n diced)
3 tsp cumin
3 tsp granulated garlic
2 C water
Make it Happen
Add beans, celery, chick'n, cumin, garlic, water and pureed roasted veggies to stock pot and bring to a boil. Reduce heat and simmer for 40 minutes.  Invite your friends and family to enjoy the best darn  bowl of chili they have had in a very long time. Serve with guacamole and chips or vegan corn bread for an exciting meal that is full of flavor and sass.
Have a delicious day.
Tags: chili verde, chili verde recipe, compassionate eating, plant based diet, SASHA Farm, vegan chili, vegan chili verde, vegan wannabe, vegetarian chili recipe, vegetarian white bean chicken chili