Happy Meatless Monday.
I have the most exciting news to share. Last week Sandy and I catered a party for Wayne Pacelle, author of The Bond:Our Kinship with Animals, Our Call to Defend Them and CEO of the Human Society of the United States (HSUS). I am absolutely name dropping because it was the most thrilling vegan moment I have had thus far. I cooked food for two days for one of the country's leading animal activists. You bet I want to talk about it.
He was in  Michigan to help build grass roots support and lobby at the state capitol in opposition to a recent state law allowing the trophy hunting of wolves and many other indigenous species in our state, including the ever so passive mourning doves (still can't get my mind around that one).  The wolves in particular are already at risk in Michigan and barely eeked their way off of the Endangered Species list.  The hunt, which tends to target alpha leaders (thus endangering the entire pack's survival), could readily render the wolves to a species only glimpsed in books.  See more about this initiative and how to help protect the wolves:  HSUS Alert.
The State Director of HSUS contacted Sandy to inquire about local vegan restaurants or vegan caterers who could provide food for a reception when Wayne Pacelle came in from Washington.  Sandy said, "Funny thing, Sherry and I do vegan catering."  I sent the Director a mock menu with photos, and we were hired.  Sandy and I had a celebratory glass of wine, then began to plan in earnest. It was a casual affair that called for light hor d'oeuvres. Finger foods with a flair.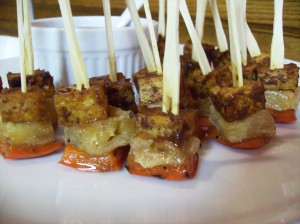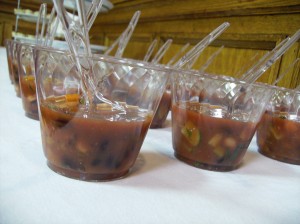 Here is the menu we served with links to recipes where applicable:
BBQ Tofu Skewers w/Grilled Peppers & Pineapple
Phyllo Cups w/Pistachio Pate & Grilled Figs
Dark Chocolate a  l'Orange Cookies
Dried Persimmons & Candied Ginger
We dressed the tables,  plated the food, secured our aprons and stood there waiting for the first person to arrive. It was brutal. I  thought I might die with anticipation. I was grateful when the first guest arrived fifteen minutes early. We were ready to blow his mind with our vegan edibles.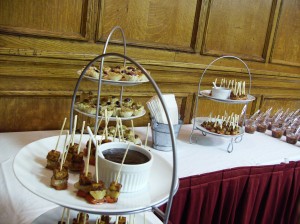 I wanted to make him eat but refrained and allowed him to sip his ice water first.
The room steadily began to fill up and I silently watched from the corner as people were enjoying, really enjoying the food we had prepared for them. When he began with his opening remarks, Wayne introduced us as providing this delicious fare.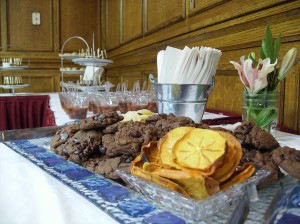 They applauded and I beamed with pride through a crimson glow.  It was heaven. The last thing I said to Wayne before he strode out the door was,"It was wonderful to feed you." I was embarrassed at first, but realized it was true. Creating compassionate cuisine for a vegan idol was not only thrilling, but deeply satisfying. I hope to have the opportunity to do it again.
Try one or all of these recipes for your next meatless meal. It will make your friends and family feel like famous vegan idols too.
Have a delicious day.
Tags: black bean gazpacho, compassionate eating, HSUS, Humane Society of the United States, Meatless Monday, Meatless Monday recipe, pistachio pate with grilled figs, plant based diet, Protecting Michigan's Wolves, vegan caterers, vegan catering, vegan cookie recipe, vegan dark chocolate cookies, vegan wannabe, Wayne Pacelle