Happy Meatless Monday.
Over the weekend I wanted to create an easy salad that we could have in the fridge and enjoy at our leisure. We had a  busy weekend planned and I knew I wouldn't want to spend a ton of time in the kitchen. I modeled it after a store bought salad that I had found the previous week.
I modified my version to be sodium and oil  free. In the process I also made it hassle free. This is going to be a new staple in our fridge for days that are filled with more sunshine and play time than kitchen time.
Mediterranean Lentil Salad
by: S. Duquet
Ingredients
2 C cooked brown lentils
1 C cooked brown rice
1/2 C sun-dried tomatoes (dry, not packed in oil)
2 C parsley
2/3 C fresh squeezed lemon juice
Make it Happen
~Put parsley and sun-dried tomatoes in a food processor and pulse until it is in small pieces.
~Put lentils, rice, tomato and parsley mixture and lemon juice in a large  bowl and toss until thoroughly mixed. Serve immediately or chill then serve.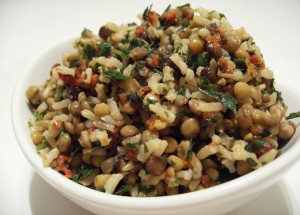 This dish  is hearty and filling while still being  light. It is an easy meatless meal to have in your fridge for lunch, dinner or a snack.  I  love that the flavor in this salad is vibrant without using added spices. I have a tendency to grab as many spices as I can get my hands on so it feels refreshing to create a dish that is flavored simply and simply flavorful.
Have a delicious day.
Tags: cooking with lentils, Engine2 friendly recipe, Meatless Monday, Meatless Monday recipe, Meatless Monday side dish, oil free recipe, sodium free recipe, vegan side dish, vegan wannabe