You know how some weeks are busier than others…this has been one of those busier weeks.  Last night I found myself standing in the kitchen at 8 o'clock , starving, unmoved and totally uninspired by anything edible. I wanted to eat the rest of the papaya in the fridge and call it a night, but we had just done Pilates then Yoga and needed to feed our bodies something more substantial. I opened the fridge, taking a quick inventory and this is what  I came up with, kale with lentils & pine nuts. It was satisfying, filling and deceptively healthy. It tasted  fresh, light, meaty and significant.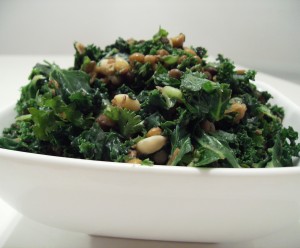 Kale with Lentils & Pine Nuts
Makes two entrees or four sides
by: S. Duquet
Ingredients
1 C cooked brown lentils   (approx  3/4 C dry  then cooked in 1 1/2 C water until tender  )
3 chopped portobello mushroom caps ( I removed the stems and the gills of the shroom before chopping)
1/4 c raw pine nuts
2T water
1 tsp garlic powder
1/4 tsp black pepper
1 1/2 T low sodium soy sauce
5 packed cups of finely diced raw kale, ribs removed
2 C finely chopped raw parsley
1 1/2 T fresh squeezed lemon juice
Make it Happen
~Put all ingredients except for kale, parsley and lemon juice in a saute pan and heat thoroughly while stirring gently, until the mushrooms are cooked down, releasing the juices.  About 7-8 minutes.
~Stir in remaining ingredients and slightly wilt greens, 3-4 minutes.
~Serve immediately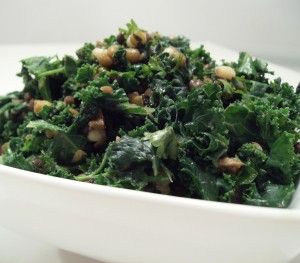 Even though I really do love to cook, I frequently feel overwhelmed by the obligations and time constraints of my day. It makes me want to throw in the towel, eat out, eat nothing or drink a bottle of red wine. But then I remember that I am worth more.
I deserve more and it really is possible to make a fast meal with a few simple ingredients. Pine nuts, two types of greens and Portobellos. Sounds like dinner to me. I hope this dish will bail you out on an evening when it seems like  it would be easier to just eat a bag of pita chips.
Have a delicious day.
Tags: compassionate eating, cooking with kale, ENgine 2 friendly recipe, Kale with lentils and pine nuts, oil free entree, oil free recipe, plant based diet, vegan entree, vegan wannabe