Happy Meatless Monday. I shared with you last week that I have been enjoying creating dishes with as few ingredients as possible. It is a departure from my usual kitchen sink approach to cooking. This recipe  is a simpler, nut free version of my creamy Cauliflower Bake.
One of the ingredients that is key in both versions of the recipe is Nutritional Yeast (aka. Nooch) to create that warm, cheesy flavor that is so satisfying. Besides the flavor it adds, Nooch is a natural source of vitamin B and amino acids and according to justgoodenergy.com, "Nutritional Yeast is very rich in B vitamins, including B12, which is what gives it that yellow color.  One serving of nutritional yeast, about ½-1 Tbsp, provides the full amount of B12 needed for an adult in day, not bad.
This power ingredient is also a great source of 18 amino acids, protein, folic acid, biotin and other vitamins.  It is rich in 15 minerals including iron, magnesium, phorphorus, zinc, and chromium, and selenium." Sounds like the right choice for a creamy comfort food.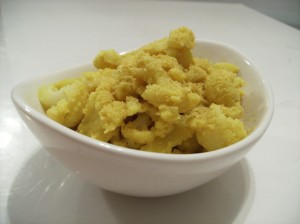 I love the simplicity of this simpler version and I also love that you use the cauliflower instead of nuts to create your sauce. This is a tasty, lighter way to incorporate a meatless dish into your week. Serve along side veggie burgers, Chick'n Pot Pie  or your favorite  hearty soup.
Creamy Cauliflower Bake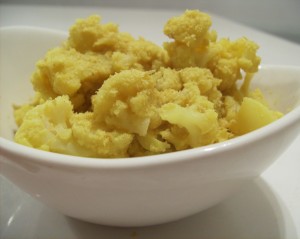 by: S. Duquet
Ingredients
5 c raw cauliflower sliced in a thin horizontal way. Think layering scalloped potatoes.
Sauce ingredients
1 c raw chopped cauliflower
1/3 c water
1/3 nutritional yeast flakes or powder + some for garnish before serving
juice of 1/2 lemon
1/2 tsp liquid aminos
1/8 tsp white pepper (feel free to use black)
Make it Happen
~Preheat oven to 350 degrees farenheit
~Layer cauliflower in a 9 x 11 inch (or whatever size you have) casserole dish
~Blend sauce ingredients in blender or food processor for severalseconds until very smooth
~Pour over cauliflower, cover and bake until hot and bubbly, approximately 30-35 minutes.
~Top each serving with a sprinkle of Nutritional Yeast
Savor the flavor of your creamy, indulgent cauliflower dish. It is even more delicious on day two if you have leftovers.
Have a delicious day.
Tags: compassionate eating, creamy cauliflower bake, ENgine 2 friendly recipe, Meatless Monday, Meatless Monday recipe, Meatless Monday side dish, nut free recipe, oil free recipe, plant based diet, vegan cheesy cauliflower dish, vegan creamy cauliflower, vegan side dish, vegan wannabe