Happy Meatless Monday.
It is snowing here like it may never stop. I feel like I am trapped in a snow globe. It is a day for head-to- toe fleece and  Chinese take out.  I would add an armful of movies and a mug of vegan hot chocolate for my snowfall survival plan.  Sandy, Chloe and I are still staying with our friends in their beautiful home in a small town just over an hour away from our house. We are in the country. There is no Chinese delivery here. Let's be honest, there is no mail delivery here. Our closest neighbors are deer.
On one of our last trips in to the nearest town, Sandy and I found an Asian grocery store and picked up a few necessities for the pantry. I had no idea we would be thrust into a snow emergency rendering me grateful for a cupboard filled with rice wine vinegar and Tamari.  Preparedness is next to godliness.
Sandy made us Chinese Take out. Her version was abundant in all the vegetables that we love and featured an amazing sauce that rivaled any that have ever been served in a small white box with a fortune cookie. It had layers of flavor without all of the sodium so often permeating take out.
I would be remiss if I didn't come clean though on my initial reservations. As it was being plated, I made an internal frowny face and silently thought it looked too pale to be flavorful. I like a nice brown, robust sauce on my Lo Mein noodles. You know the kind that require you to slam a pitcher of water before you go to bed because it is so salty.
It has all of that flavor and then some. Feel free to add the veggies you love most. If you keep them al dente as you cook them,  the dish will still be wonderful the next day and we all know how decadent leftover take-out is.
There are a few spices or sauces in the ingredient list that you may not recognize. I assure you, one trip to your local Asian grocery store (if there is one near here…you hopefully have one too) and you will be able to purchase them all at once for well under  $20.  Asian grocery stores are also a phenomenal place to purchase produce because it is always so fresh.  Then, you will have a pantry full of cool spices and sauce options for your next dish. They can all be used in a wide array of dishes, so go for it.  You will also find many, if not all, of these ingredients at your local health food or grocery store, they will just be quite a bit more expensive. I have put a star*  by the ingredients you will most likely be able to purchase at the Asian grocery store so you can see how easy it will be.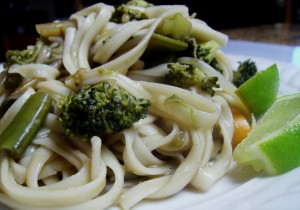 Five Spice  Veggie Lo Mein
by S. Boulton
Serves 8-10 with generous portions. Feel free to halve recipe.
Ingredients
1 tsp sesame oil*
 4 C chopped broccoil
2 C chopped snap peas*
2 C chopped peppers, red, orange, yellow or green*
1 C chopped water chestnuts*
2 C chopped snow peas*
4 C chopped napa cabbage*
4 C bean sprouts*
3 Tbsp mirin*
4 Tbsp liquid aminos
2 Tbsp rice wine vinegar*
1 Tbsp hoisin sauce*
1 1/2  tsp chinese five spice powder*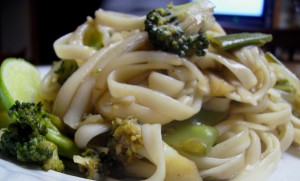 1 tsp garlic powder*
6 C cooked noodles (Lo Mein*, Udon*, use whatever you would like. We used Jindao because they are lower in sodium*)
lime wedges for garnish
Season noodles before mixing with veggies using:
2 Tbsp liquid aminos
1 Tbsp hoisin sauce*
Make it Happen:
Heat sesame oil in large sauté pan.  Add broccoli, cover and begin to sauté for 3-4 min.  Add snap peas, peppers and water chestnuts and continue to cook for another 1-2 minutes.  Then, stir in mirin, liquid aminos, rice wine vinegar, hoisin sauce, Chinese 5 spice and garlic powder, mixing thoroughly.  Cover again and continue to cook another 2-3 minutes.
As the veggies soften (still remaining a touch al dente), add the napa cabbage and bean sprouts, stir completely together, cover and cook for another 1-2 minutes.  The cabbage and bean sprouts take only a few minutes to soften, so they are the last additions to the veggie lo mein.
Meanwhile in large stock pot, bring water to boil according ti instructions for whichever noodles you choose.  Jindao noodles require a short cooking time and are best if cool water is added to them before rinsing and serving.  This step is not necessary with all noodles.  Drain noodles, stir in liquid aminos and hoisin sauce to coat.  Toss veggies (with all sauce/liquid) into the noodles and serve (or put in take out boxes to fool your friends and family and serve from there).
Stay warm, eat well and have a delicious day.
Tags: Five Spice vegetable lo mein, healthy Chinese food recipe, low oil Chinese food recipe, low sodium lo mein recipe, Meat, Meatless Monday, Meatless Monday entree, Meatless Monday recipe, Meatless Monday vegan recipe, vegan Chinese food recipe, vegan wannabe