Happy Meatless Monday and eve of Fat Tuesday.
If you are preparing to celebrate Mardi-Gras, I have a dip for you to add to your party table. If you are preparing to celebrate Lent, I have a dip for you to add to your weekly vegetarian line up. Whatever you are preparing to celebrate, I have the dip for you to enjoy.
I am always looking for new things to dip into.  For me, foods are a vehicle for consuming dips. One of my favorite restaurants creates a roasted red pepper  walnut spread that they serve with warmed pita bread. It is sensational. I had not tried to make it until last weekend. I gave it a go and am really jazzed by how it turned out.  For ease of preparation and nutritional impact, I left the peppers and walnuts raw. I also sidelined the oil and salt. Why waste the fat and calories on processed oils where they aren't necessary? The white beans, peppers and walnuts combine to create a smooth and creamy dip that is rich in flavor and healthful benefits.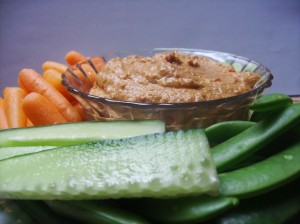 Red Pepper Walnut Dip & Spread
by: S, Duquet
Ingredients
1 c raw walnuts
2 C chopped raw red bell pepper
1/4 C fresh lemon juice
2 tsp granulated garlic
2 tsp lemon pepper
1/2 tsp paprika
1/4 tsp crushed red pepper
Make It Happen
Put all ingredients in your food processor or blender and pulse until you reach your desired consistency. I left mine a bit more textured than a smooth hummus and it was a great dip and spread. It will also thicken slightly once chilled.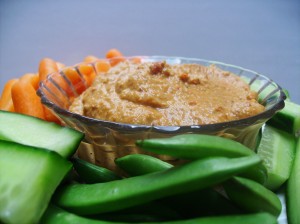 We enjoyed ours with pita chips, crackers and raw veggies. It will also make a phenomenal sandwich spread, bagel topper or pasta sauce. It is a great go-to snack for a busy afternoon.
Have a delicious day.
Tags: healthy appetizer recipe, low sodium recipe, Meatless Monday, Meatless monday appetizer, Meatless Monday recipe, oil free recipe, plant based diet, vegan appetizer, vegan dip, vegan experience, vegan wannabe, vegetarian burger, vegetarian Mardi Gras recipe, vvegetarian Fat Tuesday recipe