The adventures of VitaMan and his sidekick, Sherry the VeganWannabe continue with this fun dish, roasted garlic and potato soup. Keith allowed me to blend up a new soup recipe using his Vitamix. I roasted this…added that and it was done.  I love this machine and must have one. The good news is that those of us without our own Vitamix may still enjoy this brilliantly green, creamy cheesy, potato soup.  It is light in ingredients, packed with nutrients and robust in flavor.
Roasted garlic and potato soup with kale by S. Duquet
Ingredients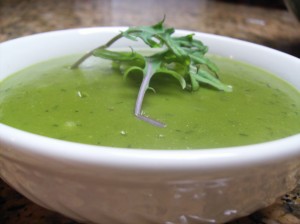 2 C Vegetarian chicken broth or low sodium veg broth ( I used 1 Not Chick'n bouillon cubes dissolved in  2 c water)
4.5 C gold potatoes cubed, skins on
3 cloves garlic
2 tsp dried dill
1/4 tsp black pepper
2 Tbsp Nutritional yeast
4 C raw baby kale plus a few sprigs for garnish ( I used baby kale because it is  sweet and soft like baby spinach)
Make it Happen
Vitamix or food processor directions:
Preheat oven to 375 degrees.
Roast chopped potatoes and garlic in a foil pouch/sealed purse until fork tender. Approx 50 minutes.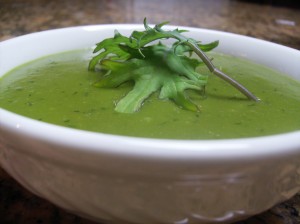 Once potatoes are roasted, reserve 2 C of potatoes and set aside, then add remaining potatoes and all roasted garlic to Vitamix or food processor. Add broth, spices, Nutritional yeast and kale. Blend in food processor until smooth and creamy or Vitamix for approx, 5 minutes on soup setting or until steaming hot. Add remaining potatoes and pulse briefly to incorporate.
Garnish with a sprig or two of baby kale and enjoy.  As the temperatures continues to plummet in Michigan, potato soup has become as necessary to me as gloves and herbal tea. This is a fast and healthful version of a comfort food favorite.   It's creamy, delicious and still hearty enough to warm the soul.
Stay tuned for more adventures of VitaMan and Sherry the VeganWannabe.
Have a delicious day.
Tags: compassionate eating, dairy free potato soup, dairy free soup, Engine 2 friendly recipes, oil free, plant based diet, sodium free recipe, vegan challenge, vegan roasted garlic potato soup recipe, vegan soup, vegan Vitamix recipe, vegan Vitamix soup recipe, vegan wannabe, Vitamix soup recipe