Happy Meatless Monday.
Sandy and I are still in Michigan after a death in my family brought us back unexpectedly. Because we had planned to spend the winter in Florida,  there is a family renting our home so we are staying with our friends Kathy and Keith.  A few days after we arrived, Sandy and I accompanied Keith to Costco.
As we walked around stuffing our over-sized carts with over-sized tubs of hummus and olives, I spied a  Vitamix demo and immediately thought, "Complimentary vegan samples." I strode right over in great anticipation of a green smoothie followed closely behind by Keith and Sandy, as the machine began to whir.  In the next 10 minutes the Vitamix demo blew me away.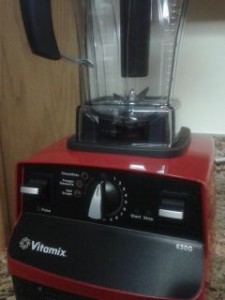 I  thought I was in the know about the joys of  the Vitamix.  Got it…it's a blender that can heat soup….. but I had no idea what this thing could really do, we were dazzled to say the least.
The very next day Keith went back and purchased a beautiful cranberry red Vitamix. We have been blending everything not nailed down ever since. Keith's greatest mistake in purchasing this dazzling machine was that I don't ever want to leave their home. We have crowned him VitaMan and he has fed us all well.  As I have the opportunity to create my own vegan recipes using the shiny red Vitamix,  I  will share them.  If you do not have a Vitamix, I suggest you move in with a neighbor that does.  I am sure they will be happy to have you.  For those without a Vitamix, I will also post stove top or food processor directions as well.
Creamy Corn Chowder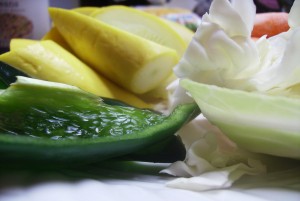 by S. Duquet
Ingredients
2 16 oz bags of frozen corn. I used one white corn and one sweet  yellow and let them defrost in the fridge until I was ready to use them. If you have fresh corn from the cob, feel free to use that.
1 15 oz can of cannellini beans drained and rinsed
1/2 C  Poblano pepper deseeded and chopped (approx 1 small pepper)
1/2 C green cabbage
1 C carrot
2 C yellow squash (approx 2 small), chopped
1 tsp garlic powder
1/2 tsp black pepper
1 1/2 Tbsp nutritional yeast
1/2 C water (add a little bit more if you need it)
1 1/2 C low sodium veg broth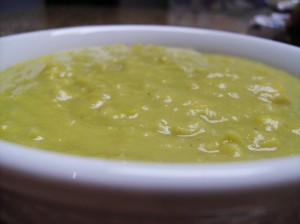 Make It Happen
Vitamix Prep:
Throw everything except one bag of corn into your Vitamix, set dial to hot soup, turn on and walk away. When your soup is done, add remaining bag of corn and pulse to mix into the rest of your soup while leaving the new corn whole for texture.  Note:  When using the Vitamix, you don't really even need to "chop" the carrots, cabbage, pepper etc.  You can clean them, trim off ends or remove seeds, but they can be tossed in nearly whole or in half.
Stovetop Prep:
Chop the carrots, cabbage and squash into approx. 1 inch pieces and put all the ingredients except second bag of corn into a stock pot. Simmer on medium heat until the vegetables are tender. Blend in food processor or blender in small batches until smooth. Add second bag of corn and pulse until corn is incorporated into soup. Reheat if necessary.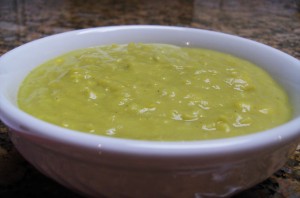 This soup is velvety and full flavored. The short cook time of the Vitamix allows each ingredient to maintain its high note and freshness. You will taste each one as they meld together to create a warm and soothing soup.
I think you are going to like this one. Enjoy and have a delicious day.
Tags: compassionate eating, Creamy corn chowder, dairy free, dairy free soup, Engine 2 Diet, Meatless Monday, oil free soup recipe, plant based diet, plant based recipe, sodium free soup recipe, vegan challenge, vegan corn chowder, vegan corn chowder recipe, vegan soup, vegan Vitamix soup recipe, vegan wannabe, Vitamix soup recipe, Vitamix vegan recipe