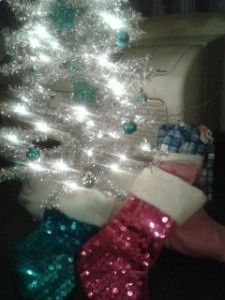 Yesterday we left Orlando and drove back to Atlanta to spend New Year's Eve with Sandy's parents.  Our cooler was packed with Tofurky sandwiches, soy creamer for coffee stops, fruit and  hummus. As part of a desire to create a new Christmas celebration for ourselves, we spent the past four days, including Christmas day at Universal Studios and Islands of Adventure. Having checked into our hotel on Christmas Eve, we decorated a beautiful silver Christmas tree and a gingerbread house while sipping champagne. Not a bad way to start.
To have access to our own kitchenette and room to dine, we chose an extended stay hotel. I have come to love extended stay hotels. In my experience, they are less expensive than most other hotels,  while providing tons of room and a micro-kitchen for whipping up vegan chow. Ours was also pet friendly which is good because so are we.  Our room became festive in no time  and we were ready to usher in a new holiday tradition.
Christmas morning we enjoyed complimentary oatmeal and coffee with our own soy creamer that we had brought in a cooler. So nice to have a fridge to have some vegany staples at our disposal.  Then we jumped in the KIA for a day at the parks and dove into traveling vegan at Universal.
The Universal complex has two theme parks side by side,  joined by CityWalk which is a stretch of larger-than-life restaurants and shops. CityWalk is home to niche restaurants such as Emeril's, Bob Marley's Jamaican fare and Jimmy Buffet's Margaritaville. There is music pumping and happy hours abound as thousands of people meander around eating, drinking and shopping. It is as overwhelming as it is exciting. It is like Las Vegas for food and cocktail lovers. We spent the first day hopping back and forth between the two parks and CityWalk.
Universal Studios had a Macy's Christmas parade featuring many of the floats and balloons from the famed Thanksgiving day parade in New York. As I stood on the parade route watching  the Rockettes, confetti raining from the sky, I felt myself begin to cry from sheer joy. I was wearing shorts and the sun was shining on Christmas day, which was new and different. This parade was so spectacular, that both Sandy and I felt it was the highlight of our experience on Christmas day and the whole time we were in Orlando.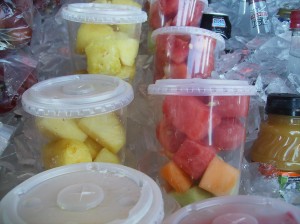 Eating in the parks was also an adventure.  It was exciting to figure out the different places we could enjoy vegan food. There were many sprinkled within the dozens of restaurants and food carts lining every single street. You can find everything from churros  to gargantuan turkey legs that are not from any turkey I have ever seen. One day as we were traversing the parks  I realized I wanted a refreshing snack.
Suddenly, I found a cart selling beverages and fresh fruit cups. I thought,"I want one of those and I don't care what it costs."  In a park where you will pay$150 to get in and $6.75 for a hot pretzel, who knows what that will mean…. but amazingly the fruit cup was only $3.65. Had I just found the greatest deal in all of Universal Studios? The cup was stuffed with chunks of watermelon, cantaloupe and honeydew. They were fresh, chilled and sweet. It was a find and fit the bill until we were ready for a meal.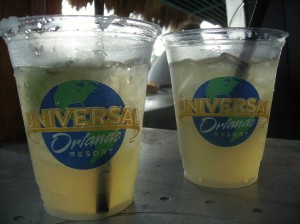 For dining and beverages, we enjoyed several of the restaurants/bars at CityWalk including Emeril's, Pat O'Briens (for singing at the piano bar), Margaritaville and Bob Marley's. The intoxicating atmosphere sucked me in immediately and made me want to go into every bar and restaurant for a sip and a snack. Margaritas have long been a good vegan option for us, but I was ready for a bit more.
Because I had checked it out online before we got there, I knew that the  Jimmy Buffet Margaritaville restaurant offered a house made veggie burger. Packed with visible veggies like edamame, corn and peppers and served on a biggie bun, it was voluptuous and exactly what we needed. We also ordered chips and guacamole as an appetizer that were not even on the menu. Ask and you shall receive.
At the Bob Marley restaurant we sat in the open-air courtyard and rocked out to Marley's reggae music. We told our server we were vegan and he helped us order the things that were vegan and not just vegetarian. He "got it" and it was very cool. I had also checked out their menu online beforehand so I at least knew where to start. We scarfed on root veggie chips with a phenomenal salsa and roasted peppers stuffed with Jamaican rice and vegetables. It was so good we went there twice in four days.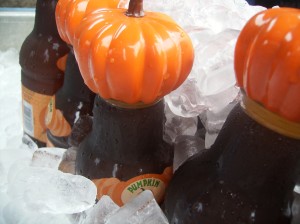 I would be remiss if I didn't tell you about my favorite edible at Universal, the Pumpkin Juice I had while in the Wizarding World of Harry Potter. Because the famous Butter Beer contained whey (milk byproduct), we decided to go for the Pumpkin Juice.  It was  delightful. The packaging was darling and made me feel like I was  walking through Hogsmeade on my way to purchase an owl and a cape.
We managed three days of Universal Studios without even going into any of the restaurants in the parks. We had complimentary breakfast at our hotel, random vegan snacks in the parks, then lunch or dinner at CityWalk. Had we been up for the carry, we could have brought in our own edibles. Families all over the place were noshing on their own food. The parks were more vegan friendly than I had even expected and that was a pleasant surprise.
The more I do it, the more I realize that being a travelling vegan is easy and enjoyable. It only takes a bit of upfront work to have  the healthy, vegan foods I enjoy while on the road. Bring a cooler filled with your favorite foods, choose a room with a kitchenette and research the area restaurants ahead of time. If there aren't any vegan options on the menu of a place you would really like to try, give them a call before you arrive and see what they can do. They want you to be happy, so make it easier on them. Showing up in the middle of their lunch or dinner rush and asking what they can veganize isn't fair and will usually lead to disappointment.  Give them a chance to dazzle you.
Have a delicious day and happy vegan travels.
Bob Marley photo courtesy of TripAdvisor.ie
Tags: Bob Marley restaurant Orlando, compassionate eating, Emeril's restaurant Orlando, Islands of Adventure, Jimmy Buffet's Margaritaville Orlando, plant based diet, traveling vegan, traveling vegan at Universal Orlando, trying vegan, Universal Studios, vegan experience, vegan Orlando, vegan travel, vegan Universal Studios, vegan wannabe