Sweet potatoes are one of my favorite foods. They are overachievers in that they can be both sweet and savory, decadent  and healing.
They are bright orange, signifying that they contain an abundance of nutrients and they are so inexpensive. I enjoy them for breakfast in my muffins and for dinner in my lasagna. They come with me to work in my lunch box, smothered in kale. They are practically a multivitamin masquerading as a vegan cupcake. I love them.
I had an extra bag of organic sweet potatoes in the basement (hoarding) so I made a dessert fit for the holidays.  This is the year to serve something new.  Dazzle them with your ability to serve a root vegetable in a fancy dress. Oh the nerve.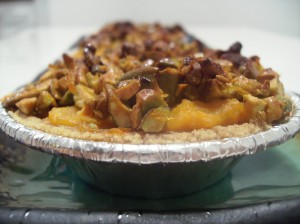 Mini Sweet Potato Pistachio Pies
by: S. Duquet
Ingredients
2 C mashed organic sweet potatoes
1/4 tsp all natural orange extract
3/4 C raw, rough chopped pistachios
zest of one orange
1/2 tsp agave
dash of salt
6 mini graham cracker crusts  (You may also make your own by using graham cracker crumbs and Earth Balance  molded into  a muffin tin. Bake for a few minutes to set before filling)
Make it Happen
~Cook your sweet potatoes in your preferred method then mash. You may even cook your sweet potatoes the day before to make pie prep quicker the day you need them. Add orange extract and mix together.
~When cool enough to handle, spoon sweet potato into pie crusts ( I used an ice cream scoop) and smooth out the top with the back of a spoon. Only fill enough to meet the edges. You want to see the edge of the crust peeking out. Put mini pies on a baking sheet and preheat your oven to 350 degrees.
~In a dry pan on low heat, toast your pistachios, stirring frequently. Toast until they are barely browned and you can smell them.
~Add agave, salt and orange zest. Stirring continuously, cook for one minute then remove from heat.
~Spoon nut mixture onto pies and spread over the top of each pie.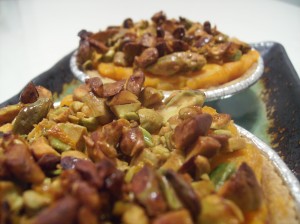 ~Cook on the middle rack for 20 minutes or until the nuts are browned but not burned. Remove from oven. Let sit for a few minutes then enjoy warm.
These mini pies hit all of my consumption pleasure senses. They are creamy and crunchy, slightly salty and sweet. The textures vary with every bite. They are sophisticated enough for your most swanky event, yet small enough for little hands to enjoy. I think you are going to like these.
Have a delicious day.
Tags: exploits of a vegan wannabe, healthy dessert, Meatless Monday recipe, Mini sweet potato pistachio pies, vegan dessert recipes, vegan pie, vegan sweet potato pie, vegan sweet potato pistachio pie, vegan wannabe