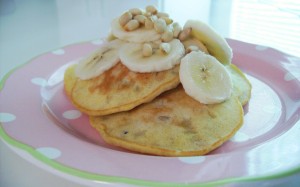 One of my favorite parts of the weekend is having more time for breakfast.  Here is a bundle of my favorite vegan breakfast recipes.  I hope one or two of them fit into your weekend.
Many of them can be made and enjoyed more than once. You need fuel for play, work and running errands.  Feed your body delicious foods and it will help you accomplish everything you want to over the weekend.
Breakfast is the one meal that people seem to ask the most about what vegans eat.  Hopefully these recipes will help the veg-curious and anyone looking for some easy and delicious vegan breakfast recipes.  Personally, I see nothing wrong with eating all sorts of  non-breakfast items for breakfast, but here are some great ones that are more traditional.
Blackberry,  Honeydew, Jicama  Salad
Zucchini Currant Muffins w/Maple Cream Cheese
Pecan Buckwwheat Waffles w/Maple Pears
Have a delicious weekend.
Tags: Breakfast sliders, compassionate eating, plant based diet, trying vegan, vegan breakfast, vegan brunch, vegan brunch recipes, vegan challenge, vegan experience, vegan pancakes, vegan quiche, vegan quiche recipe, vegan sliders, vegan wannabe