This past week  the peaches have been unbelievable. They have been drip down your arm juicy, honeyed and summery. We have been juicing , grilling and enjoying them every chance we get. I decided to create a raw dessert as a stage to  feature this succulent stone fruit.  I frequently feel intimidated by raw recipes because they can require so  many ingredients and a long list  of steps to accomplish.   I kept this dish easy to prepare with minimal ingredients and limited soaking  so you can enjoy your dessert faster and with less work.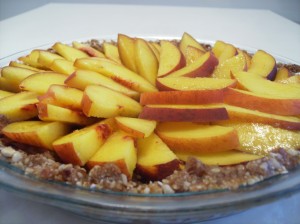 Raw Caramel Peach Pie
by: S. Duquet
Crust Ingredients
1 C raw sunflower seeds
1/2 tsp sea salt
15 dates pitted and chopped
3/4 C raw shredded coconut
Filling Ingredients
12 dates soaked and drained (Pit your dates first then cover with water and chill in fridge for an hour.  Drain.)
1 1/2 tsp coconut oil
2 tsp hot water
pinch of sea salt to taste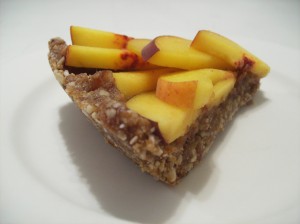 Fruit Topping
I used 3 peaches, sliced.
Make It Happen
~Put crust ingredients int food processor and pulse until you get  crumbly, moist crumbs that will form a ball.
~Using your  hands or the back of a spoon, push crumbs into a pie plate, carefully going up the sides to form a crust.
~Cover and put in the freezer for 10-15 min.
~Wash out food processor then add filling ingredients. Pulse until very creamy. You may need to stop several times to scrape down the sides.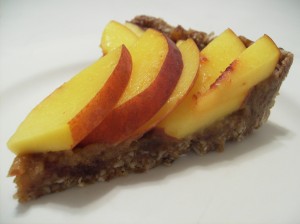 ~Remove crust from freezer.  Using the back of a spoon, gently spread filling over crust, going all the way up the sides.
~Starting on the outside and working in, cover the filling with sliced fruit.
~Cover and chill in the freezer for an hour and a half. When ready to serve ,remove from freezer and set out at room temperature for about 10 minutes to allow the peaches to soften a bit before cutting and serving.
The sweet, salty and crunchy combination is irresistible. The peaches are a buttery soft  accompaniment to the crunch of the sunflower seeds and caramel filling.  It is an easy to create raw dessert that looks like something you really had to work at. The ingredients are easy to find and can be modified to fit your tastes and availability. What a delightful way to honor the fruits of any season.
Have a delicious day.
Tags: compassionate eating, dairy free, dairy free dessert, going veg, peach pie, plant based diet, raw dessert, raw pie recipe, trying vegan, vegan dessert, vegan peach pie, vegan recipe, vegan wannabe