I have the most exciting news. You may now Subscribe to receive the latest Exploits post in your inbox. The new Subscribe function is on the right menu bar on the Home page, just enter your email address and that's all.  Your email is safe with me. I will never share, spam or abuse it. I am grateful to experience this most delicious vegan journey with you and am delighted that I am now able to make it that much easier to find and read the posts.  Now lets do some raw cooking.
I am continuously intrigued and intimidated by raw food recipes. Making a dish out of  something that it isn't, like spaghetti noodles made from zucchini or bread that is really a dehydrated onion, feels mysterious. It is like smoke and mirrors with health food. Because many of the recipes require special tools, soaking, drying, patience and knowledge I do not possess, I tend to get excited about creating raw dishes for a moment then suddenly shy away because it feels too daunting. Well,  that is not the Vegan Wannabe I want to be so I have decided to try again. Desserts make my insides happy so why not start there?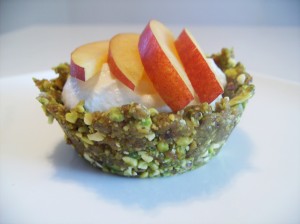 Pistachio Tarts w/Lemon Cream and Nectarines
by: S. Duquet
Makes 12 tarts
Tart shell Crust Ingredients
2 C Raw pistachios
1 C Dates (I used 7 large  dates with the pit and remove the pit myself. The ones you purchase with the pit still in them are more moist and plump than  already pitted dates)
Filling Ingredients
1 1/2 C Raw cashews soaked in the fridge overnight in en0ugh water to cover.
Juice of 2 lemons
3/4 tsp powdered stevia (you may also use agave to taste)
1 Tbsp coconut oil
Water to add by the Tbsp while blending
3 Nectarines finely sliced for garnish (you may use any fruit you enjoy)
Make It Happen
~Blend the pistachios and dates in a food processor until the mixture becomes crumbly and moist
~There are two ways to make the tart shells
1.Spoon enough crust mixture into a muffin tin to press all the way up the sides of each muffin cup, forming a tart shell.
2. Or, first cover each muffin cup with plastic wrap then spoon mixture into each cup and form your tart shell.
I did several of each and what I found is that putting the mixture directly into the tins is infinitely easier and less time consuming, but more difficult to get out after the tarts are set. The plastic wrap method took much longer and made it more difficult to mold the filling in to the cup but when it came time to release them..they popped right out beautifully.
~Cover the crust filled muffin tin and put in to the freezer for at least fifteen minutes for shells to set.
~Drain and rinse your soaked cashews. Put them into the food processor or blender with the lemon juice, Stevia and coconut oil. Blend until very creamy, adding water by the tablespoon full as necessary. This will take several minutes of blending, scraping down the sides and blending. It may feel like the cashews will never break down nd become creamy, but they really will. Keep blending.
~Remove tart shells from the freezer and carefully remove each one from the muffin tin. I did this by gently running  a paring knife around the inside edge of the tart to release it from the sides. Once all of my tarts were out of the tin I transferred them to a baking sheet to fill them.
~Fill each shell with your lemon cream
~Cover shells and return to freezer until ready to serve
~When ready to serve, remove tarts from the freezer and allow to thaw just long enough for the cream to become creamy. Top with sliced nectarines and enjoy.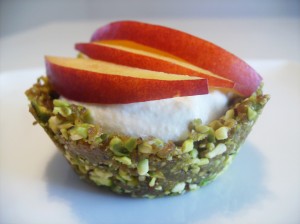 The crust is positively divine. The lime green pistachios, lemon scented cream and brilliant nectarines are an amalgamation of  the brightest things of Summer.  The textural differences add to the enjoyment of this relatively easy to prepare  dessert. This recipe is a raw food confidence booster that makes me think I could try a few more.
Have a delicious weekend.
Tags: cashew cream dessert recipe, dairy free, dairy free dessert recipe, exploits of a vegan wannabe, Pistachio tarts with lemon cream and netarines, raw dessert recipe, sugar free dessert recipe, vegan dessert, vegan lemon cream, vegan tarts, vegan wannabe