Happy Meatless Monday and Day One of the 15 Day Juice Fast. I have two updates to share and the most insane shopping list you have ever seen.
Kale Trail Update
We have been running in the most extreme heat ever and I am mostly loving it. It makes it more difficult to breath, but we stay very hydrated and take it slow. I am trying out a new-to-me breathing technique (both in and out nose) that seems to really calm down my breathing and lower my heart rate. I am enjoying it very much. Our long run yesterday was 4.5 miles. We are working our way back up to 13.1 slowly but most assuredly.
Notes From The Juicer
In case you missed some of the details in the past few posts, we are starting a 15 day fast, of eating/juicing only fruits and vegetables the first 5 days, then 5 days of juicing only fruits and veggies, then 5 more days of eating/juicing fruits and vegetables.  Inspired by the movie, Fat, Sick and Nearly Dead, this fast is an adventure that I hope you will find of interest too. Maybe you will want to give it a go and "re-boot" your body and soul through food.  For more information about the juice fast, see 7/13 post, Getting Prepared.
This past weekend was 2 days of purging the fridge and winding-down coffee/beer/wine/hummus and sugar consumption. As not to be wasteful, I consumed  most everything in the house.
To reward ourselves for our non wasteful behavior, and to adequately prepare for the all fruit and veg
adventure, we headed to one of Michigan's crown jewels, Detroit's Eastern Market.  It is one of the few open air, outdoor public markets across the country that still sits in its original location, (since 1891) right inside the heart of the city limits.   Packed full of Michigan farmers, I couldn't help but feel an enormous sense of pride for all the beautiful produce grown  on the same soil that I call home. Every piece of fruit and every vegetable we saw was more beautiful than the one before. They were hard to resist but then I realized…why would I resist? Were not talking about cupcakes…..throw it in the bag!
In our shopping trip, we purchased about $90 in veggies and fruits to jump start the first few days of the fast.  In total, we bought about 70% local,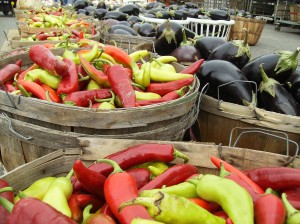 Michigan grown produce and about 30% of the bounty was organic.  When the opportunity was there to buy local, we did and when it was there to buy organic, we most certainly did….but we didn't  freak over either.  I don't want to allow hang ups or fear over not being able to find local or organic produce to become an excuse to not try or to unknowingly sabbotage myself with unrealistic expectations. A month ago I hardly bought any organic produce and now, I reach for it first when available. I think that is an enormous improvement.
Our trip to Eastern Market began with the biggest shopping list ever,  generated from recipes inspired from the site, Fat, Sick and Nearly Dead.    Some of the ingredients we already had, but ramping up for the fast, we need much larger quantities of the produce that is normally in our fridge and pantry.  Wandering through the most luscious farmers market with a no holds barred attitude and a pocket full of cash was SO exciting. We found more produce than we could carry so we put it in the KIA and went and bought more. You are not going to believe what we bought. At first I thought we had spent a ton of money until I realized that we didn't need to purchase anything else like bread, hummus, grains, non-dairy milks or vegan ice cream. We had stock piled produce because that was what we would be living on for the next fifteen days. Definitely a mind shift happening already.
Here is the most insane list of produce that we just purchased for the juice fast:
1 bunch mustard greens
3 bunches curly kale
1 bunch swiss chard
2 lbs organic carrots
3 heads organic celery
1 bunch parsley
2 chayote
2 quarts green beans
5 small bell peppers
2 large bell peppers
1 jalapeno
2 poblano peppers
2 jicama
2 yucca root
4 golden summer squash
2 heads green leaf lettuce
1 bunch radishes
1 small head of purple cabbage
large bunch spinach
4 small eggplant
6 ears of corn
6 stalks rhubarb
3 lbs redskin potatoes
5 lbs of persian cucumbers
2 reg cucumbers
3 avocados
5 golden delicious apples
3 donut peaches
2 mango
4 nectarines
5 plums
15 limes
10 lemons
4 kiwi
1 lb strawberries
2 lbs Ranier cherries
2 pints blueberries
1 pint raspberries
1 pint blackberries
5 large bananas
8 large dates (with pits)
1 bunch fresh dill
2 bunches cilantro
6 inches ginger root
zataar seasoning
granulated garlic
lemon curry powder
I have no idea how long this bounty will last for the two of us, but we are ready to have a successful day one.  When it comes to lifestyle change, planning is important to me and I think we have poised ourselves for success. Day one here I come.
Have a delicious day.
Eastern Market image courtesy of DetroitEasternMarket.com
Tags: compassionate eating, dairy free, Fat Sick and Nearly Dead, juice fast, Kale Trail update, Meatless Monday, Notes from the Juicer, plant based diet, vegan, vegan wannabe