Last week at work a customer asked me if we had Elbow Macaroni. I walked her to the pasta aisle to investigate. We did not, but in the brief  moment of that exchange, I began to crave Elbow Macaroni Tuna Salad. You know the one….standard with mayo, celery and peas.  The craving was strong as if it went along with a beloved memory that I just could not remember. So Sandy and I decided to veganize a legend,  favorite of grandmothers and church luncheons everywhere.
Elbow Macaroni Tempeh  Salad
By: S. Boulton
Ingredients
2 C dry whole wheat elbow macaroni noodles  (cook according to pkg instructions, about 6 min)
1  8 oz package of tempeh boiled in water for 10 minutes then cooled and diced (the size of tuna chunks)
1 1/2 Tbsp liquid aminos
1 C finely diced celery
1 C peas ( We used frozen that had been thawed in fridge)
Pepper to taste.
Mayo Ingredients
1 lb pkg of Silken Tofu
1 1/2 Tbsp of mustard (we used a sweet/spicy variety, but dijon would work too)
1/2 Tbsp apple cider vinegar
1/2 Tbsp agave syrup
1 tsp of garlic powder
1/2 tsp of ground caraway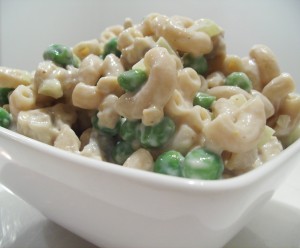 Make it Happen
Boil elbow macaroni according to package instructions, rinse and drain, set aside in large bowl.    Boil tempeh, rinse to cool, cut into tuna size chunks and put in medium sized bowl.  Sprinkle with the liquid aminos and toss lightly to coat evenly, set aside. In the large macaroni bowl, add celery, peas and a dash of pepper. Using a food processor or blender, blend together all of the "mayo" ingredients and pour into macaroni mixture.  Toss to coat, then add tempeh cubes and toss all lightly together.   Add more pepper to taste.  Chill for 2 hours and serve.    Makes plenty to bring to a summer gathering as a dish to pass.
The flavor of this salad is spot on. It is creamy and rich, catapulting me back in time to school days when this tuna mac salad was a warm weather staple in picnics and outdoor parties.  It felt decadent in its authentic flavor, but now, prepared for a responsible, guilt-free palate, it is the perfect answer to an old friend made friendlier.  No oil, only a trace of added sodium from the aminos and a dash of organic sweetening from the agave syrup.  It is a no-cholesterol rendition in this new version without compromising that familiar flavor of a staple summer dish of yore.
Have a delicious day.
Tags: compassionate eating, dairy free, Engine 2 friendly recipes, exploits of a vegan wannabe, going veg, plant based diet, plant strong, vegan challenge, vegan lunch recipes, vegan picnic recipes, vegan recipe, vegan Tuna Macaroni Salad, vegan wannabe