I made chicken and dumplings for the very first time years after I had already become vegetarian. I have no idea what it is about deciding  to never eat chicken again that encouraged me to make chicken and dumplings but there it is.  I found the recipe in a  Betty Crocker Bisquick cookbook circa 1999. It is one of those small paperback cookbooks that are in the checkout lane at the grocery store. An impulse buy. You know the ones. If I have to wait in line for any more than 30 seconds…I am sucked in. I have to pick them up and look through them even if they have Beef Wellington on the cover. I am just curious and I love to look at pictures of food.
This one happened to be a  Halloween edition so it was brimming with food shaped like ghosts and pumpkins. There are  also craft ideas and a recipe for Play-dough made out of Bisquick. Fun times. This little book has been used no less than 20,000 times over the last thirteen years. Most recently…to make vegan chicken and dumplings. I hope you enjoy this recipe as much as we do.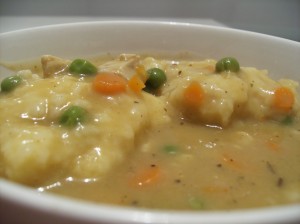 Chicken & Dumplings
Original recipe by  Bisquick and modified by S. Boulton
Ingredients
2 C low sodium veggie broth
4 Tbsp flour
1/4 tsp rubbed sage (more to taste)
1/2 tsp garlic powder (more to taste)
2 tsp sea salt
1 tsp ground pepper
1  1/2  C non-dairy milk
1 C faux chopped chicken ( I used Trader Joe's chickenless strips)
1 C frozen or fresh peas
1 C chopped carrots
Dumplings
1 C Bisquick baking mix
1/3 C non dairy milk ( I used unsweetened coconut milk)
Paprika if desired (it was for us)
Make It Happen
In a soup pot, whisk together the veggie broth and flour until the flour is completely blended.  Add sage, garlic, sea salt and pepper and bring to a simmer for about 10 minutes until the broth thickens.  Add the non-dairy milk, chicken, peas and carrots and bring up to a low boil.   (I used fresh chopped carrots vs frozen, so I added them in the broth thickening stage so they could soften a little.)
Meanwhile in a medium bowl, stir baking mix and 1/3 C milk until soft dough forms.   Drop dough by 8 spoonfuls onto the boiling chicken mixture and sprinkle paprika on top for added pizazz.  Let boil, uncovered for 10 minutes, then cover and continue to boil 10 more minutes.   Makes 4 servings.
Chicken & Dumplings are like the warmest blanket with the snuggliest dog. They are soothing for your soul and easy enough to make on any busy evening. I consider this a healthier comfort food than most even though it is designed with Bisquick and faux chicken. They are like a band aid for your heart or a hug from a vegan grandmother that adores you.
Have a delicious day.
Bisquick images from Ebay seller Jac29000
Tags: Bisquick recipes, compassionate eating, dairy free, plant based, trying vegan, vegan Bisquick recipes, vegan challenge, vegan chicken and dumplings, vegan chicken recipe, vegan entree recipes, vegan experience, vegan wannabe, vegetarian chicken and dumplings, vegetarian chicken recipe