Once again I have been dazzled by something I saw at the farmers market. They are edible flowers called Johnny Jump-Ups or Tri-Color Violas. They are brilliantly flavorful despite their dainty exterior. When I nibbled on a few I expected them to taste somewhere between grass and air. I was very wrong.
They are slightly minty with a hint of  sweet pea and orange.
I kept it simple and let them rain on a biggie bowl of  coconut vanilla ice cream. The most elegant desserts aren't always fussy.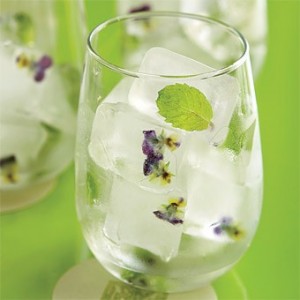 They are also incredibly sexy frozen into ice cubes for cocktails or flavored seltzer.
You can grow these tasty flowers in your home garden quite easily. They are an early blooming perennial plant that according to www.gardnersnet.com are usually grown as an annual. So much so, that most people believe they are annuals.
Have a delicious day.
Viola info from www.whatscookingamerica.net
Viola growing info from www.gardnersnet.com
Viola ice cubes image from www.pinterest.com
Tags: compassionate eating, cooking with herbs, dairy free, edible flowers, going veg, Johnny Jump Ups, plant based diet, plant strong, Tri color Violas, trying vegan, trying vegetarian, using edible flowers, vegan, vegan challenge, vegan experience, vegan wannabe, violas