Sandy is the mastermind  behind the most delicious gazpacho I have ever tasted. It is rich and hearty and cool and light. It has black beans,  cucumbers and all things summery.  You will not believe how amazingly easy this chilled soup is to make. We bring this to every Summer event we are invited to and Sandy is an instant hero. A culinary goddess. Who wouldn't want that?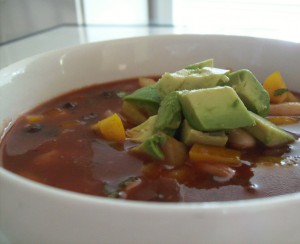 Ingredients:
1  0.7 oz packet of dry powdered Italian (or Zesty Italian) salad dressing mix
1/4 cup of red wine vinegar
3 cups (or more as needed) of tomato juice
1/4 cup of fresh chopped cilantro (add more or less to taste)
1 large cucumber, peeled, seeded and chopped (we like them in pretty small, 1/2 inch sized cubes or smaller)
1  large pepper (red, yellow or orange), cored, seeded and chopped (ditto above on size being small)
1  15 oz. can of black beans, drained
1  15 oz. can of pinto (or northern or white kidney) beans, drained
1/2 chopped avocado (optional)
Make it happen:
Whisk dry salad dressing mix with vinegar in large bowl until fully blended. Toss in cilantro, cucumber and pepper and add tomato juice, stir again.  Add the beans and stir just to mix everyone together.  If needed, add more tomato juice to cover the ingredients. We sometimes put in a dash more red wine vinegar or cilantro as well, allow your taste buds to guide you.  Cover and chill for at least 2 hours before serving.  Garnish with chopped avocado.  Gazpacho improves as it sits overnight, so for a party, try to make it the night before!
Enjoy! Have a great weekend.
Tags: black bean gazpacho, chilled soup, compassionate eating, gazpacho, gazpacho recipe, vegan brunch, vegan gazpacho, vegan recipe, vegan soup, vegetarian gazpacho, vegetarian recipe